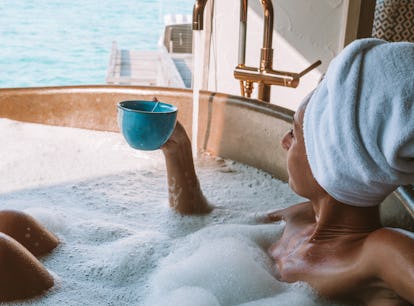 30 Body Care Products Under $50 That'll Make Your Bath Time Feel So Luxurious
Sorry, but you'll never wanna get out now.
lncreativemedia/E+/Getty Images
Is there anything better than taking a nice, hot 45-minute bath after the worst day ever? The answer is absolutely not. Some candles, a good book, and some of your favorite body care products can make your bath time feel so luxurious, you'll never want to leave. (Get ready for some seriously pruny hands, y'all). If I'm being honest, I don't think I'll ever rent, lease, or purchase another apartment or house that doesn't have a bathtub in at least one of the bathrooms. I've been addicted to taking baths for a very, very long time, and it's hard to imagine living life without the warm embrace of a bath every night before bed.
My bath time and body care products have cured me from so many ailments, including colds, fevers, painful hangovers, mild depression, general sadness, stomachaches, a few rounds of a broken heart, headaches, and much more. Baths are simply my meditation of choice. I take a bath at least 3-4 times a week, and I look forward to taking one all day. It's my moment of peace, my check-in-with-myself time, my "douse myself in body scrubs, body lotions, and body oils until I am soft as a baby" time. And with that, I'm here to say: More baths forever!!!
Ahead, peep some of the most luxurious, relaxing body care and bath products that'll help enhance your experience and convert you to a tub lover, too.
We only include products that have been independently selected by Elite Daily's editorial team. However, we may receive a portion of sales if you purchase a product through a link in this article.