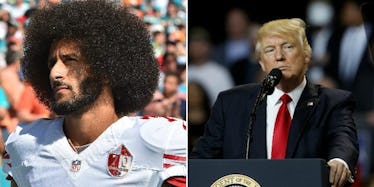 Trump Says He's Why No One Will Sign NFL's Kaepernick And His Reason Is So Odd
REUTERS
Donald Trump has claimed NFL quarterback Colin Kaepernick is unemployed because teams don't want to risk the president's wrath by signing him.
At a rally in Louisville, Kentucky, the POTUS appeared to brag about being the reason why the football player doesn't have a job, with some interpreting his words as a threat to NFL teams.
The QB, who refused to stand for the pre-game national anthem during a high-profile protest that divided America last season, is currently a free agent.
The 29-year-old opted out of his contract with the San Francisco 49ers, the team that drafted him in 2011, following his protest against racial injustice in the US.
While some players joined him in taking a knee for the anthem, and the movement spread to college and high school teams, he also provoked the fury of many people — including the commander-in-chief.
At the rally, Trump refused to mention Kaepernick by name, instead referring to "your San Francisco quarterback," prompting a chorus of boos from the crowd.
Trump then added, "I'm sure nobody ever heard of him." (Kaepernick played for the 49ers in the Super Bowl in 2013, a game that was watched by 108 million Americans.)
He said,
There was an article today reporting that NFL owners don't want to pick him up because they don't want to get a nasty tweet from Donald Trump. Do you believe that? I just saw that. I said if I remember that one I'm going to report it to the people of Kentucky, because they like it when people actually stand for the American flag, right?
He appears to reference an article by Bleacher Report's Mike Freeman, who was told by an anonymous NFL general manager,
Some teams fear the backlash from fans after getting him. They think there might be protests or Trump will tweet about the team.
Freeman himself appeared to be shocked when he learned of the president's latest claim.
Kaepernick, meanwhile, has revealed he has ended his protest and will stand for the anthem if he plays in the 2017 season.
It's true NFL owners, who have no problem spending millions of dollars on players with lengthy rap sheets, have stayed well clear of the quarterback.
This has been addressed by movie director Spike Lee, who said it "smells MAD fishy" in an Instagram post this week.
Lee called out the New York Jets, a team who blatantly needs a QB, but is owned by Woody Johnson, who was picked by the POTUS to be his ambassador to the UK.
Oh, and Kaepernick?
He is currently helping out with a fundraising drive aiming to raise millions for people living in extreme poverty in Somalia.
Citations: Donald Trump Credited Himself For Keeping Colin Kaepernick Unemployed This Offseason (Uproxx)