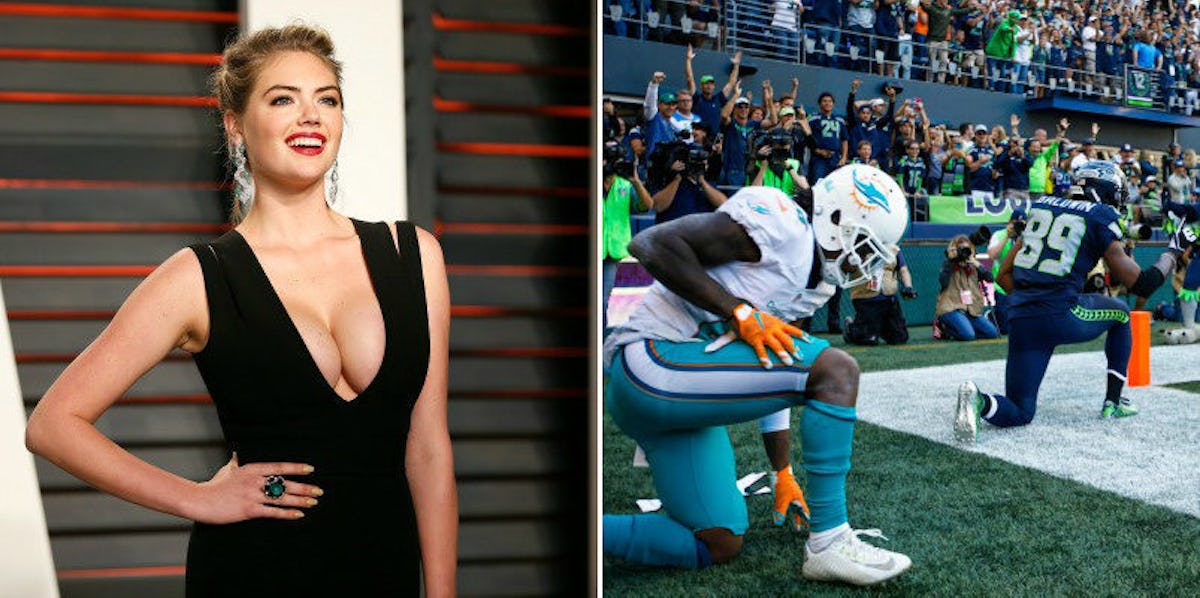 Kate Upton Gets Slammed For Angry Post About Sitting During National Anthem
REUTERS/USA TODAY Sports
The first Sunday of this NFL season took place on the 15th anniversary of the 9/11 attacks.
It was always going to be an emotionally-charged day, and that only intensified in the wake of San Francisco 49ers quarterback Colin Kaepernick's refusal to stand for the National Anthem a few weeks ago.
After seeing several players, both in football and in other sports, follow suit and demonstrate similar protests as Kaepernick's, speculation over what would happen Sunday was at a fever pitch.
There were rumors the Seattle Seahawks would protest the anthem as a team, but they decided not to in the end.
However, there were several players on the Miami Dolphins who did choose to take a knee when "The Star-Spangled Banner" played before kick-off on Sunday. The protest sparked plenty of conversation on Twitter, but one of the most intense responses came from Kate Upton.
In a lengthy Instagram post, Upton said sitting or kneeling during the anthem is a "disgrace."
In her full rant, Kate Upton said,
In my opinion, the national anthem is a symbolic song about our country. It represents honoring the many brave men and women who sacrifice and have sacrificed their lives each and every single day to protect our freedom. Sitting or kneeling down during the national anthem is a disgrace to those people who have served and currently serve our country. Sitting down during the national anthem on September 11th is even more horrific. Protest all you want and use social media all you want. However, during the nearly two minutes when that song is playing, I believe everyone should put their hands on their heart and be proud of our country for we are all truly blessed. Recent history has shown that it is a place where anyone no matter what race or gender has the potential to become President of the United States. We live in the most special place in the world and should be thankful. After the song is over, I would encourage everyone to please use the podium they have, stand up for their beliefs, and make America a better place. The rebuilding of battery park and the freedom tower demonstrates that amazing things can be done in this country when we work together towards a common goal. It is a shame how quickly we have forgotten this as a society. Today we are more divided then ever before. I could never imagine multiple people sitting down during the national anthem on the September 11th anniversary. The lessons of 911 should teach us that if we come together, the world can be a better and more peaceful place #neverforget.
ESPN's Jemele Hill clapped back at Upton with a rather poignant tweet, questioning her support of all Americans.
In my opinion, Kate Upton is missing the entire point of these protests. Kaepernick and others who are choosing to kneel during the National Anthem love this country as much as anyone. They're upset this country is failing to hold itself to the standards and morals we claim to believe in.
Let's not forget, the founders of this country owned slaves. That's just a fact.
Former NFL safety Charles Woodson arguably gave the most accurate take yet about this whole situation. He spoke about how much it used to mean to him to stand on an NFL sideline during the playing of the National Anthem, but he also acknowledged Francis Scott Key owned slaves.
In the video above, Woodson said,
Now, as I'm thinking about the National Anthem, and I hear that line, 'for the land of the free,' he wasn't talking about me.
This debate isn't going anywhere, and we're a better country for it.
Citations: We've Reached the Jemele Hill vs. Kate Upton Stage of the National Anthem Controversy (The Big Lead)