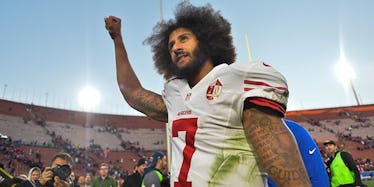 Colin Kaepernick Will Stand During The Anthem, But Is Still Being Criticized
REUTERS
People are suspicious about the move Colin Kaepernick decided to pull next season.
The quarterback is putting an end his national anthem protest, as he heads into free agency (the search for a new employer). Skeptics are criticizing the 29-year-old's timing.
People are drawing the conclusion Kaepernick gave up on his protest against the "oppression of black people" as soon as he needed a job, therefore he's not as committed as he wanted people to think.
But for anyone who paid genuine attention to what Kaepernick had done during the season, it should be more than clear why he'd feel no need to continue kneeling.
Back in the summer he explained he would not "stand up to show pride in a flag for a country that oppresses black people and people of color," which sparked a national debate.
He prompted his own employer to help him financially support charitable causes: The San Francisco 49ers matched Kaepernick's own $1 million worth of donations.
He initiated a movement where players on different NFL, college and high school teams took after his example by kneeling down.
Even players from different sports, like US soccer star Megan Rapinoe, co-opted his message.
ESPN reported that the decision to stand comes from Kaepernick's belief that his message has been affirmed. He already made his point, and he did so successfully.
On the other hand, critics believed he was a distraction to the team. But Kaepernick's coach supported him, and then his teammates gave him the Len Eshmont Award at the end of the season.
Critics said Kaepernick wasn't personally doing anything to address the problems he was identifying (as if that made those problems any less worth talking about), but he dipped into his own pocket and founded programs anyway.
They said he was disrespecting veterans, and then veterans showed support for him.
They also said it was tone deaf for a millionaire to complain about how America is not great, while ignoring the fact that a billionaire had been running a successful campaign for the presidency under the same premise.
Skeptics said Kaepernick was doing all of this for the attention, and yet he continued kneeling even during the later months of the season, when that very same attention surrounding his protest had died down.
And now, the stance is that Kaepernick lacks credibility, because he won't be kneeling at his new job.
It's an argument that seems to follow in the footsteps of the previous ones, which means critics should probably consider another approach.
Citations: ESPN