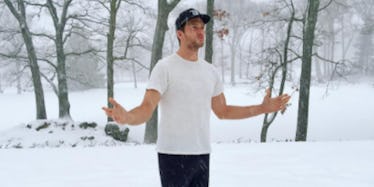 Tom Brady Joined Instagram And His First Pictures Will Remind You Of Your Dad
Instagram
When I hear Tom Brady's name, I think back to his infamous press conference bolt when he was asked about Donald Trump.
When a reporter asked him, "How would you respond if your kids heard Donald Trump's version of 'locker room talk?,'" the athlete became noticeably flustered, before leaving to avoid all further questions.
A special thanks to the guy who asked Tom Brady about Donald Trump locker room talk and the end of his press conference #WBZ #Patriots pic.twitter.com/sCx59IArsw — Joe Giza (@JoeGiza) October 12, 2016
For me, this is because since the election, many people are divided into Trump supporters and non-Trump supporters, and not even one of the most famous quarterbacks in football history is spared of that comparison.
This is also because I'm from Texas, and don't really understand why the New England Patriots are considered on par with the heavens. (Have you seen the Dallas Cowboys' recent rise to victory?!)
But, I digress.
Tom Brady is also famously known for being the husband of 36-year-old supermodel Gisele Bündchen. Since getting married in 2009, Brady and Bündchen have had two children, and the model loves showing off the precious family on her Instagram account.
Here they are being preciously too short to reach the Thanksgiving spread:
Here they are riding horses on the beach like a picture-perfect postcard:
And here they are celebrating Father's Day near a crystal-clear ocean, molding a... mountain (?) into the sand:
Despite marrying a supermodel and famously being a part of #deflategate (Can you tell I don't know anything about the Patriots?), Brady has remained relatively low-key.
But it seems he decided to get in on the Instagram action, so he can finally post photos of himself in his own private sanctuary.
Behold, his first post:
Brady appears in the snow, embracing it with delight, as he reminds us he's just a simple Cali boy living life in the harsh Northeastern winters.
Since joining Instagram 23 hours ago, Brady already has an impressive 741,000 followers. So he followed up his success with a touching father-daughter post:
Awwww.
Here's to hoping his little tot learns more about football than I do. *Clicks follow*