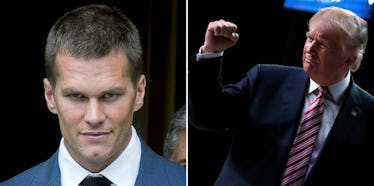 Tom Brady Storms Out Like A Pussy When Asked About Trump's 'Locker Room Talk'
REUTERS
I swear, I'm not one of those Tom Brady haters who think the man is nothing more than an annoying pretty boy.
In fact, when push comes to shove, I honestly think Brady might be the greatest quarterback in NFL history.
However, if you're going to stand up for Donald Trump when it's convenient for you, then you damn well better have something to say when your boy dismisses sexual assault as "locker room talk."
On Wednesday, following the New England Patriots' practice, a NECN reporter by the name of Jonathan Choe clearly thought, "Fuck it." He decided to ask Tom Brady for his thoughts about his "good friend" Donald Trump's recent comments about grabbing women by the pussy.
Here's the 39-year-old quarterback's response:
A special thanks to the guy who asked Tom Brady about Donald Trump locker room talk and the end of his press conference #WBZ #Patriots pic.twitter.com/sCx59IArsw — Joe Giza (@JoeGiza) October 12, 2016
You can hear Choe ask,
Tom, you have kids of your own. How would you respond if your kids heard Donald Trump's version of 'locker room talk?'
With a smile, Brady replied,
Thank you, guys. Have a good day.
Sorry dude, but you're not getting a free pass here.
Calm down, Pats fans: I know Brady won't read this article, but I'm going to call him out nonetheless.
It's funny that Brady had nothing to say about Trump's recent deplorable comments. Because he CLEARLY had no issue praising his buddy during an interview with WEEI radio back in December 2015.
In that interview, Brady said,
Donald is a good friend of mine. I have known him for a long time. I support all my friends. That is what I have to say. He's a good friend of mine. He's always been so supportive of me — for the last 15 years, since I judged a beauty pageant for him, which was one of the very first things that I did that I thought was really cool. That came along with winning the Super Bowl. He's always invited me to play golf. I've always enjoyed his company.
Earlier that year, Brady was asked by WEEI if he thought Donald Trump has what it takes to become president, to which New England's quarterback replied,
I hope so. That would be great. There'd be a putting green on the White House lawn. I know that.
And what about Donald Trump? Yeah, it turns out he's real fond of his pal Brady.
Tom Brady, you acted like a real pussy on Wednesday. That's all.
Citations: Tom Brady Walks Out of Press Conference When Asked About Donald Trump's Locker Room Talk (Video) (Total Pro Sports)