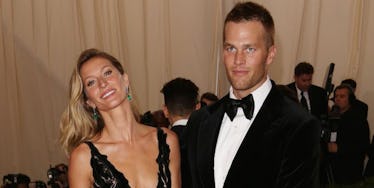 Tom Brady Says Gisele Bündchen Wants Him To Retire, He Told Her 'Too Bad'
REX/Shutterstock
Gisele Bündchen retired from modeling in 2015 and is hell-bent on getting every-damn-one to retire alongside her, starting with her husband, Tom Brady.
Tom just won his fifth Super Bowl with the New England Patriots and, as far as his former supermodel wife is concerned, that's enough.
He told NFL Sirius XM,
If it was up to my wife, she would have me retire today… She told me that last night three times. And I said, 'Too bad, babe, I'm having too much fun right now' … You know, I feel like I can still do it. If you love what you do and you're capable of doing it, then I might be so bored if I wasn't going out there knowing that I could still do it. So I'm going to work hard to be ready to go, and I still plan on playing for a long time.
Yeah babe, too friggin' bad. Tom is going to keep on footing that ball, or whatever, until his goddamn legs fall clean off his body.
Then, he's going to drag himself around the field on his arms with the ball in his mouth if he has to, until his arms fall clean off his body, too. At that point it'll probably seem like retirement is inevitable, but he'll still find a way to keep that $20,500,000 average annual salary.
If anyone tries to get in the way of Tom's plans, you can bet your un-athletic ass his dad bestie Donald Trump is getting a phone call.
This pair is so freaking close, y'all. Donald will take a break from being president (to the temporary relief of so many Americans), come down there and crack some skulls.
Tom has already been challenged on his unbreakable bond with Trump: an infamous xenophobe and big time racist who cannot wait to ban, just -- oh, man -- SO many Muslims from American soil.
Speaking on his friendship with Trump on WEEI's "Kirk & Callahan Show" show prior to the Super Bowl, Tom said,
Why does that make such a big deal? I don't understand that.
Though this question barely qualifies as proper English, Tom expanded on his point with confidence.
In an explanation presumably drafted by 2007's Miss South Carolina, he added,
I have called him, yes, in the past… Sometimes he calls me. Sometimes I call him. But, again, that's been someone I've known. I always try to keep it in context because for 16 years you know someone before maybe he was in the position that he was in. He's been very supportive of me for a long time. It's just a friendship. I have a lot of friends. I call a lot of people.
Ah, dizzying nonsense. Hail Satan.
Citations: Gisele Bundchen Wanted Tom Brady To Retire After Super Bowl Win But He Says He's Having 'Too Much Fun' (BroBible)