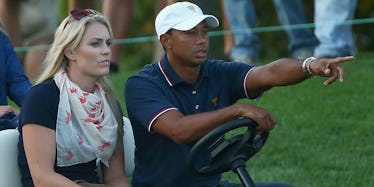 Tiger Woods Allegedly Cheated On His Now Ex-Girlfriend Lindsey Vonn
Getty Images
It looks like Tiger Woods is at it again.
No, he's not tearing it up on the golf course (those days are over), but he may have returned to the ways that started his huge slump seven years ago.
According to an exclusive from Daily Mail, the former golfing champ cheated on his ex-girlfriend and US Olympian, Lindsey Vonn, before their recent breakup.
A source, described as a "close friend," told Daily Mail,
He had a relapse in the sex department. Lindsey found out about women again. Always while he's on the road. Just like when he was with Elin.
The source claims Woods' moment of infidelity came in February when he was eliminated from the Farmers Insurance Open.
The source also said that once Woods was seen in public with one of the women he was cheating with, he confessed to Vonn.
The source continued,
When Tiger realized he was seen, he became concerned and eventually he decided to confess to Lindsey. Something he didn't do with Elin. He came clean and I give him credit for that.
The exclusive also revealed Vonn stayed with Tiger Woods for a short while after his confession in order to show support for him, and the source described Woods as a sex addict who needs help.
The source reportedly said,
Yes, Tiger cheated again. But it wasn't with anyone special. He really wanted Lindsey to be the one. But he blew it again. He can't help himself. He's got an addiction. He relapsed.
It's no wonder he couldn't sleep...