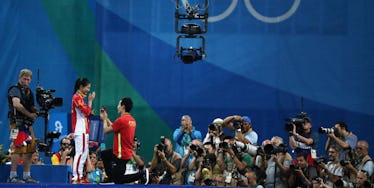 Stop Interrupting Your Significant Other's Accomplishments With A Proposal
REUTERS
There have now been five proposals at the 2016 Rio Olympics. Five!
The first came from Deodoro Stadium manager Marjorie Enya and Brazilian rugby player Isadora Cerullo.
Then came the very public proposal of Chinese Olympic divers Qin Kai and He Zi.
Monday saw a more private proposal between UK race walker Tom Bosworth and boyfriend Harry Dineley.
Monday also saw UK dressage competitor Charlotte Dujardin pressed by her fiancé, Dean Golding.
And then on Tuesday, American Will Claye went up in the stands to propose to American hurdler Queen Harrison after he got silver in the triple jump.
After winning silver in the triple jump, @WilliamClaye proposed to hurdler @GoQueenGo. https://t.co/LJf9pvPIbV https://t.co/NmGDINfOtP — NBC Olympics (@NBCOlympics) August 16, 2016
But you know what? That's enough. No more. The Olympics proposals have to stop.
I am no Scrooge. Love is super fun and everybody should have it!
Marriage can be a really cool thing if you find someone you like who's good to you! Engagement rings are dazzlingly pretty as long as you forget about the whole patriarchal history of oppression and the ring's symbolic indication that the woman is now owned by the man!
Nah, but for real. Proposals can be really sweet. I am not anti-proposals.
I helped my now brother-in-law plan his proposal and then spent the day of excitedly pacing around my living room waiting for my sister to call me with the good news. Proposals are fine.
But, you know what's not fine? Making an engagement seem like a bigger deal than a superhuman accomplishment for which you worked crazy hard.
I stand by Judy Berman on this: "Any idiot can get married."
Do you know what any idiot can't do? Olympic diving or dressage or track & field or rugby or race walking. (Race walking is hard you guys.)
It was especially irksome to see Zi's boyfriend jump up while she was in her moment of personal achievement just to ask if they could get married.
Bro, she's kind of busy right now.
Enya, the stadium manager, proposed to rugby player Cerullo after the rugby final between Australia and New Zealand. Enya told the BBC,
As soon as I knew she was in the squad I thought I have to make this special.
Do you know what else makes making an Olympic squad special? Making the Olympic squad.
Enya also told the BBC,
I wanted to show people that love wins.
Which is great! Having two same-sex proposals in such a high-profile venue is an awesome sign of progress for the world.
But on the personal level, questions remain, though it is, of course, not impossible Enya knew the answers to these questions: Did Cerullo want her Olympic appearance to become a message to the world? Was she ready for that? Was she ready to get engaged at all?
Rom-coms (and "The Night Before") over the years have taught us public proposals are terrible, especially when they're surprises. What if you're not ready? What if you wanted to think about it a little bit? No time for that, everyone's looking at you!
Public proposals are terrible (unless you're into that thing and discussed it at length with your partner).
I mean, just look at Dujardin. Her fiancé wore a sign to her gold medal ceremony saying, "Can we get married now?"
So while Dujardin is having her moment, she's also faced with public pressure to go ahead and get married already, woman!
After the London 2012 Summer Olympics, Dujardin and Golding broke up for a bit because of the pressures she faced to continue competing. According to The Telegraph, Golding is "desperate" to start a family.
There might be a few reasons why Dujardin is not quite as desperate as her fiancé to start a family.
But, now she's being pressured as if her personal achievements are getting in the way of a woman's only purpose in life: to get married and start a family.
The other terrible thing that starts happening after a public, high-profile proposal is the media coverage. It's the worst.
Publications start writing that getting engaged is an awesome achievement -- as if winning an Olympic medal is on par with a thing, again, any idiot can do.
Of course a marriage proposal is being valued higher than medaling at the Olympics. OF COURSE that's what should matter more to women. — Carly LaForge (@carlylane) August 15, 2016
And then, people take us back to the whole patriarchal oppression business.
For example, this is how the official English Rio 2016 Twitter account talked about Claye's proposal.
Queen Harrison, an Olympic athlete in her own right, is reduced to a thing someone "wins."
In headlines, Harrison becomes nothing more than "girlfriend." The Roanoke Times wrote it was "a good morning in Rio for Kristi Castlin and Queen Harrison."
Castlin qualified in heats for the 100-meter hurdle semifinals. Harrison answered a question. But, we're all being told these are equal levels of achievement.
In any case, proposing in the middle of a big achievement is like having your birthday on New Year's. Instead of getting two chances to celebrate, all you get is one.
Not to mention, can you imagine how annoying it must be for the other athletes around?
Imagine telling your grandkids,
Well, I won gold in diving in the 2016 Rio Olympics, but then some egomaniac jumped onto the medal stand and nobody cared that I won gold anymore.
Lovers, this is the Olympics. There are more important things going on here than your desire to be with your partner.
Honestly, the only people who did their proposal kind of right were Bosworth and Dineley, who at least kept it out of competition.
Love is great, I'm really happy for you and Imma let you finish, but you gotta let real achievements finish first.
Citations: Rio Olympics 2016: Will Claye proposes to girlfriend after winning silver (Sporting News), Yes, race walking is an Olympic sport. Here's how it works. (Vox), Rio Olympics 2016: Venue worker's marriage proposal to Brazil player accepted (BBC), 'Can we get married now?': Dressage champion Charlotte Dujardin's fiancé sends unsubtle message with handwritten sign as she wins another gold medal (The Telegraph), Love wins: Rugby player accepts on-field Olympic marriage proposal (CNN), A good morning in Rio for Kristi Castlin and Queen Harrison (The Roanoke Times), Will Claye proposes to girlfriend Queen Harrison following silver medal win at Rio Olympics (UPI), Tom Bosworth Proposes to His Boyfriend at Rio Olympics (Out)