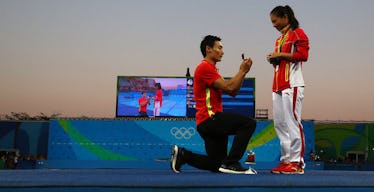 This Diver Proposed To His GF At The Olympics And Couldn't Keep It Together
REUTERS
An Olympic diver went so hard on the romance in Rio de Janeiro, he almost couldn't handle it.
Qin Kai, 30, of China, proposed to fellow Chinese diver He Zi, 25, after she won silver in the women's 3-meter springboard event over the weekend.
The setting could not have been more perfect: the win; that Rio sunset; the Olympic backdrop.
Qin got down on one knee in front of the crowd.
It was all going so well.
Here it is from a different angle. Look at her face! It's the best kind of surprised.
Uh-oh. Come on, bro, easy does it.
No, no, no -- hold it together!
NOOOOO. We've got a crier, a full-blown crier. Qin's fighting back those tears so hard. If he puts as much effort into his diving as he does trying not to cry, maybe he'll take gold in the men's 3-meter springboard.
Ah yes, Qin trying to disguise his weepy face as a victory cheer. Classic Qin.
Never change, Qin.
Citations: Olympic divers put competition aside to celebrate a surprise proposal on the medal podium (Mashable)