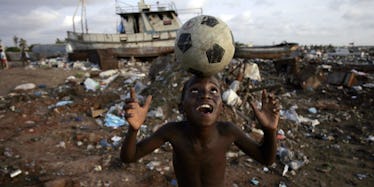 This Is Why People Who Play Soccer Are More Open-Minded And Worldly
REUTERS
Soccer, or fútbol, is the most egalitarian sport in the world.
Yes, it's true there are a number of major problems surrounding this game: FIFA is extraordinarily corrupt, many professional players are paid exorbitant amounts of money, female players aren't paid enough, there are hooliganism and violence in certain countries, instances of racism at soccer matches and awful abuses of workers in Qatar in relation to the 2022 World Cup.
These abhorrent things should certainly not be ignored as it's disturbing the most popular game on the planet is connected to many of the more regressive aspects of modern society.
With that said, the terrible trends linked to soccer are not so much a product of the game but reflections of the immense flaws of humanity. Blaming the sport is a distraction from where these issues emanate from -- us.
At its core, soccer is really a game that binds humans together, more so than any other sport.
Soccer makes you more connected to the world.
There's a reason soccer is the most popular game in the world: It's democratic.
Anyone can play regardless of gender, race, ethnicity, religion, sexual orientation or economic status.
Soccer is the easiest and most widely enjoyed sport on the planet. You can use almost anything as a ball and make goals out of sticks.
As the legendary Pelé, who is widely considered the best soccer player ever, recently stated,
The reason the sport has grown so big, I think, is that it's not only for rich people. It's not just for big people—size doesn't exclude people. Everyone can participate. That's why it's become so popular worldwide. You don't need to have any special quality in particular to play.
Indeed, you don't have to be special to play soccer, you just have to be human.
I've loved soccer my whole life. I started playing before I could read. Soccer shaped my entire existence; I wouldn't be who I am today without it.
By the age of 5, I was playing alongside kids from Ethiopia, Mexico, Brazil, El Salvador, Slovenia, Israel and beyond. By 21, teams I played with took me to Italy, Spain, Switzerland, Liechtenstein, England and Scotland.
From the first time I touched a soccer ball, this sport bred within me a deeper curiosity and appreciation for other cultures.
This game has always been my gateway to the world, and I know I'm not alone.
In every country I've been to, regardless of whether I could speak the language, I could always count on the fact there's no place on this planet where soccer isn't played and loved.
Soccer is a love letter to humankind.
Soccer is a form of communication in and of itself.
For many people across the globe, soccer stands as a reminder of our common humanity and a celebration of the incredible things people are capable of.
There's nothing more spectacular than watching a player like Lionel Messi, a man who hardly looks as if he'd be one of the top athletes worldwide, dribble past multiple defenders with effortless ease and rocket the ball into the back of the net. It's magical.
Even when a player like Messi scores against one of your favorite teams, such as his incredible free kick against the USMNT in the Copa America 2016, you can't help but marvel at what he's able to do.
And when an underdog ends up winning a massive game, it's impossible not to cheer for that team -- such was the case when Iceland defeated England in the Euro 2016 round of 16.
Soccer is a sport covering the range of human emotions. It can drive people from ecstasy to complete despair within seconds.
It's almost impossible to play this game and not feel more in harmony with the rest of the planet.
Whether you're watching or playing, if you truly love the game, you love the entire world.
The biggest fans of soccer are also the biggest fans of humans. In other words, soccer opens up the world to you and makes you more open and worldly in return.
It's not a coincidence people refer to soccer as "the beautiful game."