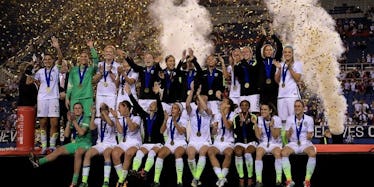 Women's Soccer Is Fighting Back Against The Blatant Gender Pay Gap
Getty Images
On the surface, it's simple, really. Women get paid less than men for doing equal work, and, so it appears, that fact is grossly evident within the United States Soccer Federation.
According to reports, the five most well-known members of the United States women's national soccer team filed a grievance with the Equal Employment Opportunity Commission, claiming wage discrimination on the part of US soccer, with regard to the differences in how male and female players are paid.
Alex Morgan, Hope Solo, Carli Lloyd, Megan Rapinoe and Becky Sauerbrunn claim they're paid roughly four times less than their national male counterparts.
Aside from the obvious outrage over the disparity in wages, doesn't anyone else think this is a little bit ridiculous because the women's national soccer team is, you know, a hell of a lot better than the men's national soccer team?
Below is a table outlining the wage disparity between the men's and women's national soccer teams.
Though the above wages were reportedly agreed upon via separate collective bargaining agreements, the USWNT is arguing their CBA is now expired. The US Soccer Federation claims its CBA with the USWNT is valid through the end of 2016 as a result of an agreement the two sides reportedly signed in 2013.
The USWNT is being represented by Jeffrey L. Kessler, the same attorney who represented Tom Brady in his legal matter with the NFL.
Kessler told Sports Illustrated,
The reason the players have filed is because the USSF has made it clear that they will not consider equal pay [with the US men] in the negotiations for a new agreement. So whether or not there's an existing agreement, they won't ever agree to make a change to give us the right salary. And the players have been very patient and have concluded now they have to bring a case.
A burning question now is whether or not the USWNT would consider going on strike before the 2016 Rio Olympics in August, a move which would undoubtedly send shockwaves across the country and the globe.
In addition to his comments on the CBA, Kessler said,
These athletes have probably the strongest case for pay discrimination against women that I have ever seen. Because you have a situation where not only are their work requirements identical to the men's requirements -- the same number of minimum friendlies they have to play, the same requirements to prepare for their World Cups -- but they have outperformed the men both economically and on the playing field in every possible way the last two years.
And, lest you think the possibility of the USWNT not playing in the Olympics is unrealistic because only five players are taking legal action, think again.
It's your move, US soccer.
Citations: USWNT stars accuse U.S. Soccer of wage discrimination in EEOC filing (Sports Illustrated)