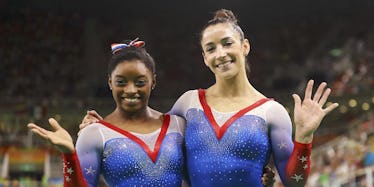 Simone Biles And Aly Raisman On Olympic Rules They Want Changed By Tokyo 2020
REUTERS
Simone Biles and Aly Raisman definitely want to compete at the 2020 Olympics in Tokyo. But first, they'll need a lot of rest.
The Olympic gymnasts spent Tuesday morning at the Kips Bay Boys & Girls Club in the Bronx, where they taught over 100 children a master class in Just Dance in honor of the launch of Ubisoft's Just Dance 2017.
The women had cramps and were "exhausted" after performing several of the songs with the children, but they took a couple minutes to chat with Elite Daily.
Biles said,
I'm pretty sure a lot of people like to dance, but you don't realize it's also cardio, it's also a workout. So you get to be active as well. It's just a fun thing to do for friends and family.
Both athletes, who dominated at the 2016 Olympics in Rio, said they hope to compete again at the 2020 Olympics in Tokyo.
This would be monumental -- especially for Raisman, as it would be her third Olympics after competing in both Rio and London. Raisman said,
We just need to rest first.
The athletes have been on a whirlwind tour since coming in first and second in the Rio all-arounds after getting gold in team.
They've done a variety of appearances, popping up at everything from the VMAs to "The Tonight Show With Jimmy Fallon."
Now they're featured in the nationwide Kellogg's Tour of Gymnastics Champions.
So while they're not competing in the Olympics right now, they're still performing almost every night. Raisman says Biles is doing the most work and she doesn't "know how she does it."
Biles shrugged and said,
Sometimes I don't understand how. Tonight? Don't know how I'm gonna do it. But I do it, and it's good.
If they do return for Tokyo 2020, the landscape of USA Gymnastics will be dramatically different.
The women's team this year used the name "Final Five," as they were the last team coached by Márta Károlyi, who held the position for 15 years.
Before Márta took over, her husband Béla was briefly the coach.
This is the end of the Károlyi era, which has seen American gymnastics rise to a globally dominant power.
Valeri Liukin, a former Olympic gymnast and the father of Olympian Nastia, has taken over Károlyi's position for the women's team.
Biles said it's hard to say how this will change the program, but both athletes believe it won't be altered too much. After all, as Raisman put it: If it ain't broke, don't fix it.
Raisman added,
I know he's a very good coach on bars, so he'll probably improve on bars but everything else, I think, will just [stay the same].
Another big difference for 2020 is the team sizes will be different.
Teams are being reduced from five athletes to four -- so the "Final Five" literally can't happen again.
Biles and Raisman aren't happy at all about the change. Biles said,
It's sad because so many people train for it and work for it for their entire lives, and only four get to go. I just think it's kind of unfair because I feel like more people should get the opportunity to represent their country because they worked so hard.
Raisman explained that with the new rules, two people can make it to Tokyo for individual events if they win a certain amount of qualifying events, which is "very hard."
The Final Five were so beloved in part because of their closeness as a team. Raisman worries having a smaller team with two individual competitors will lessen that, as well as take away from the post-Olympic fun.
She said,
Hopefully [the team will] win, but the other two [individuals] won't get to do all the exciting stuff with them after. So like we got to do so many cool things like Jimmy Fallon, the VMAs, but the other two? Hopefully they'll get invited, but it just makes no sense. They're kind of taking away from the team aspect.
Biles and Raisman also don't like the rule that only two athletes from each country can compete in the individual all-around.
The pair picked up gold and silver in Rio, but it was at the expense of their teammates.
Gabby Douglas scored third among all of the countries' competitors in the all-around qualifier.
But because Biles and Raisman were first and second, they took the U.S.'s only two spots for the finals, leaving Douglas unable to compete.
Raisman said,
It's cool that they can have more girls from other countries compete, but…all five girls from our Olympic team should've been in the all-around final.
Raisman has experienced both sides of this rule, as she's both qualified for finals and been edged out by her teammates despite a high overall score. She explained,
It just doesn't really make any sense. But I don't think they're going to change it because it would favor the US team. It's a bummer.
Biles agreed, saying,
It's not fair that some of the best athletes have to sit out.
They both believe finals should be done in rank order.
One thing they probably wouldn't change is men's floor routines.
This summer, I argued it's sexist that men don't have to do their floor routines with dancing and music.
Raisman and Biles didn't agree. Biles said,
It'd look a little funny and it'd take up too much time because they have too many passes.
Raisman wasn't sure why this difference exists. She explained,
They do harder gymnastics than us, so I think-- I don't know why. I don't know.
Biles skeptically referred to male gymnast Jake Dalton's performance on the Kellogg's tour, saying,
I mean, you see Jake's solo with music. It's so weird.
In awe of how amazing @jake_dalton is pic.twitter.com/ocu8Vafwx8 — kiana (@Kiki_liki_loo) October 3, 2016
Raisman wondered,
Just 'cuz we're not used to seeing it, I don't know.
We'll have to wait and see if Biles and Raisman will make a triumphant return in Tokyo 2020. You can catch them in other competitions or the Kellogg tour until then.
Citations: Team USA, FloGymnastics, NBC