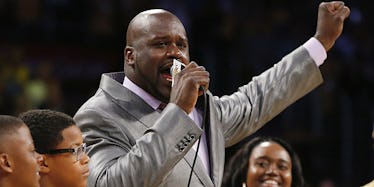 Shaq Tried To Throw Shade At Steph Curry And It Hilariously Backfired
REUTERS
If there's any time to come at Steph Curry, it's now, and Shaquille O'Neal is clearly privy to this fact.
Why?
Well, Curry was terrible during the NBA Finals, which the Warriors lost in dramatic fashion on Monday night. The fact that he made the lowest percentage of shots for any MVP in finals history only underlines that fact.
"Steph Curry had the worst finals of any MVP ever." -- @getnickwrighthttps://t.co/4UbAkMlSNQ — Herd w/Colin Cowherd (@TheHerd) June 21, 2016
So, with such an underwhelming performance in the rearview mirror, this week proved convenient for anyone who wants to throw shade at the back-to-back MVP.
Rihanna did it. LeBron certainly did it, and Shaquille O'Neal took a stab at it, too.
Clearly, Shaq was trying to dismiss Curry's achievement of becoming the first unanimous MVP this year and took the opportunity to assert himself as "da real MVP".
It isn't a surprise he did this, either. During an exclusive American Express event earlier this month, which featured a sit-down between Shaq and Phil Jackson, Shaq made it no secret he felt he was the NBA player who should've been voted the first unanimous MVP.
There's just one problem...
Yeah, you read that right.
Right, Shaq's moment of flexing turned into an epic fail. In other words, his attempt at throwing shade at Steph backfired. It's like that sometimes, bruh.