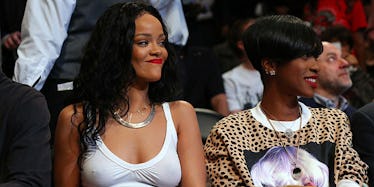 Rihanna Threw Major Shade At Steph Curry After The Warriors' NBA Finals Loss
USA Today Sports
Rihanna had no chill after the Cavaliers won Game 7 of the NBA Finals against Steph Curry and the Warriors.
The pop star went on a spree of Instagram posts following the conclusion of the championship game, and the first of that spree was a direct shot at either Curry or Curry's fans, depending on how you take it.
The post is pretty typical for a fan like Rihanna, who's never hidden her support for LeBron. It's no secret that LeBron fans have not exactly been the most excited about the way Curry has been exalted as the face of the NBA.
Throw in the fact that Steph had a relatively bad performance and the fact that LeBron had a great one and you've got the perfect recipe for someone like RiRi to brag like crazy.
See what I mean?
But she didn't stop there. Every irrational sports fan (aka all sports fans) knows that you're not really celebrating a championship unless you act like you won the trophy.
So when the team you wanted to win captures that title, it's all right to take it as a personal victory.
Yeah, Rihanna was really into the Finals, unlike Curry's shot.