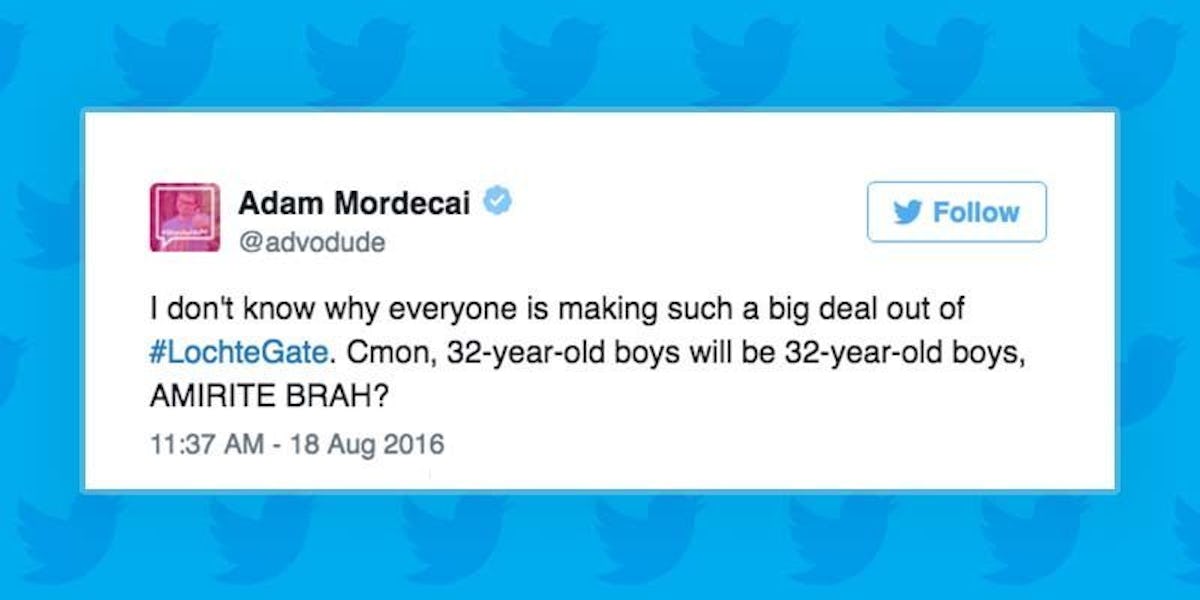 Twitter Is Hilariously Roasting Ryan Lochte Over The Rio Robbery Scandal
Twitter
Seemingly out of nowhere, the Ryan Lochte robbery scandal has become arguably the biggest story to come out of the 2016 Summer Olympics in Rio.
Need a refresher?
Ryan Lochte and three fellow US swimmers claim they were robbed at gunpoint early Sunday morning by men posing as police officers.  According to Lochte, he and his teammates were coming back to the Olympic Village from a night out in Rio when their taxi was pulled over.
Allegedly, men identifying themselves as police officers told Ryan Lochte, Gunnar Bentz, Jack Conger and James Feigen to lie on the ground. When Lochte refused, according to his own account of the story, one of the men put a gun to his head.
Ryan Lochte reportedly claimed the men stole the swimmers' money and wallets, but left their phones and Olympic credentials.
WATCH: Ryan Lochte recounts being robbed at gunpoint with his teammates in Rio. https://t.co/pXZNabPeFNhttps://t.co/62SlTOgoxP — NBC News (@NBCNews) August 14, 2016
Based on reported inconsistencies in Lochte's story, as well as security footage of the swimmers returning to the Olympic Village, authorities and media alike began to question and poke holes in the robbery story.
Wednesday, a Brazilian judge ordered Ryan Lochte to surrender his passport and remain in Brazil, only Lochte reportedly returned to the United States at the beginning of this week.
Lochte's three teammates, however, are reportedly being held in Rio for questioning about this alleged robbery.
So, as Lochte's story appears to look less and less credible, folks on Twitter have taken it upon themselves to create some pretty savage memes making fun of the Olympian.
Enjoy.