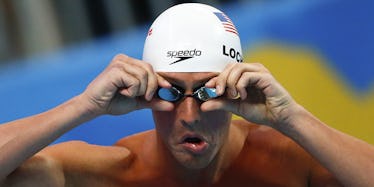 This Security Video Is Making Everyone Question Ryan Lochte's Robbery Story
REUTERS
Brazilian police have some questions for Ryan Lochte.
There's just one problem: He isn't in Brazil.
US Olympic Committee spokesman Patrick Sandusky said,
There was no effort to detain anyone, but police did have further questions this a.m. It is a matter for our consulate and U.S. citizen services and we will continue to cooperate with all involved.
That quote was given to USA TODAY Sports, which is reporting on Wednesday police went to visit Lochte and the three other swimmers who claim they were robbed early Saturday morning.
However, Lochte's attorney told USA TODAY the 32-year-old went back to the United States, just days after giving NBC News elaborate details of how he and his teammates were mugged.
USA TODAY's report, which stated it was "unclear" whether Lochte's three other teammates were still in Brazil, comes on a day a number of different reports seem to cast doubt on the swimmer's story.
Here are the major issues:
Police lacking evidence
Daily Mail, along with other outlets, reported on Wednesday police found little evidence to support claims of the robbery.
According to Daily Mail, Brazilian police say Lochte and his teammates did not provide key details. Meanwhile, the taxi driver who allegedly took the swimmers home has not been found.
This video from Daily Mail shows the swimmer returning to the Olympic Village on Saturday morning, shortly before 7 am.
The athletes appear to have their phones and watches on, though Lochte told NBC News from the start only their "money" and "wallets" were stolen.
WATCH: Ryan Lochte recounts being robbed at gunpoint with his teammates in Rio. https://t.co/pXZNabPeFNhttps://t.co/62SlTOgoxP — NBC News (@NBCNews) August 14, 2016
Search and seizure warrant
Early on Wednesday, reports emerged Brazilian authorities were looking to ban Lochte and another teammate, James Feigen, from leaving the country in order to ensure the athletes could give further testimony.
Since then, NBC News' Peter Alexander tweeted out an official statement from a Rio court, ordering for the two swimmers' passports to be seized so "contradictions" to their stories can be addressed.
CNN International Correspondent Nick Paton Walsh broke down the complex situation during a television appearance.
Judge orders search and seizure warrant for 2 US swimmers reportedly robbed in Rio on Sunday https://t.co/9hECU8nhIk https://t.co/dvB1mljxml — CNN (@CNN) August 17, 2016
As of now, it's unclear where Feigen is. Per protocol, USOC officials have not disclosed his location or travel plan, but it's definitely clear where Brazilian authorities want him and Lochte to be: in Rio, to face more questions.
Update 5:36 PM EST: 
According to Daily Mail, Brazilian police now claim Lochte's wallet was detected when he walked through an "x-ray scan" upon returning to the Olympic Village, after he had already claimed it missing.
Citations: PEOPLE