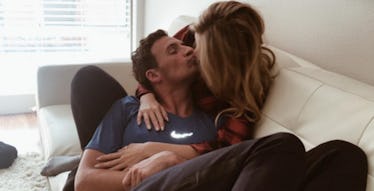 Ryan Lochte Reveals He Moved In With Model GF Kayla Reid And It's Serious
Instagram
There's a light at the end of the tunnel for Ryan Lochte, who's had a rough few weeks following his "Dancing with the Stars" ambush earlier this month.
The Olympian swimmer recently revealed he moved in with his girlfriend, the beautiful Kayla Reid, who's been proven to stand by his side no matter what.
Finally, Ryan! Happy news! We're stoked for you.
Lochte spoke with People about how he's been feeling post-DWTS, and he mentioned how grateful he's been for the support he's received from Kayla and his mother. He said,
Especially my girlfriend, because I'm living with her now... She's definitely just been so supportive.
AWWW. Look at these cuties.
The swimmer then discussed his mother's endless support. He said,
And my mom is calling me non-stop. I'm like, 'Mom, stop calling me! I'm okay. I'm okay.' She's like, 'I'm just making sure you're okay!'
Ryan's a lucky guy to have so many positive women in his life. They've got your back, Ry.
We've got to give the guy credit for keeping his head up when waters get rough and for taking the next step with his bae to better himself.
Citations: People