This past Saturday night, at UFC 190 in Brazil, Ronda Rousey defeated Bethe Correia in the blink of an eye.
Well, 34 seconds to be exact, but you get the picture. In fact, everyone gets the picture.
Since joining the mixed martial arts circuit in 2010, Rousey has taken the UFC by storm.
In 2012, she defeated Miesha Tate in four minutes and 27 seconds to become the Strikeforce Women's Bantamweight Champion.
Now, at 28, Rousey is the only female bantamweight champion in the UFC with a perfect 12-0 record.
And, not only is Rousey arguably "the best fighter in the whole world," but she's also one of the most marketable personalities outside the octagon.
In any given fight, Ronda Rousey has to defeat just one opponent.
In order to get the best appearances and endorsements outside of UFC, Rousey has to fend off fellow athletes as well as hold the torch as an inspiration and role model for women everywhere.
Here's why Ronda Rousey's domination outside of MMA is just as impressive as her perfection within.
In 2012, Ronda Rousey was featured on the cover of ESPN The Magazine's Body Issue.
A year later, she mixed it up with Maxim.
She also did her thing for Sport Illustrated's Swimsuit issue.
Now, Rousey's got endorsement deals with the likes of Reebok and Monster.
As well as metroPCS and BUFFALO David Bitton.
The Cali native is also making major big screen moves, like killing it in "Expendables 3."
And kicking Turtle's ass in the "Entourage" movie.
Don't forget about Rousey mixing it up with Michelle Rodriguez in "Furious 7."
And scaring the crap out of the folks at "Good Day LA."
Last month, she sonned Floyd Mayweather after winning the ESPY for best fighter.
Teaming up with The Rock at WrestleMania in San Fransisco? Check.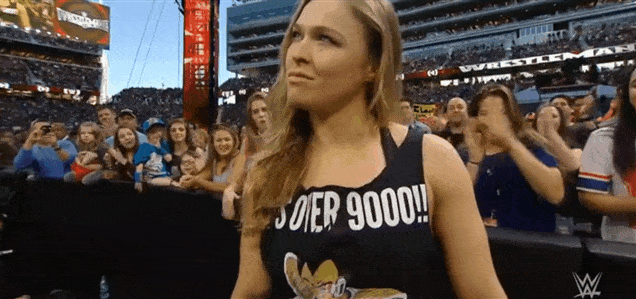 Ronda demonstrated her devastating armbar on Jimmy Fallon.
And told Jimmy Kimmel about the time she beat up two dudes at a movie theatre after watching "Juno."
But it was all love when the champ chatted it up with Conan O'Brien.
When you've got Shaq and Sly Stallone saying you're the greatest...
Rhonda rousey is a beast Daaaaaaaaaam — SHAQ (@SHAQ) August 2, 2015
Ronda Rousey is the Greatest Champion of this era! Keep Punching CHAMP! — Sylvester Stallone (@TheSlyStallone) August 2, 2015
You know you're so much more than just a UFC champion.