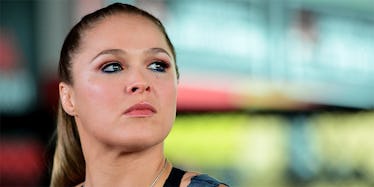 Ronda Rousey Thought About Killing Herself After Losing To Holly Holm
Getty Images
With a "Saturday Night Live" performance and Sports Illustrated Swimsuit Issue cover to her name, Ronda Rousey began 2016 on the right foot.
Despite the hot start to her new year, the way she ended last year, with a shocking loss to Holly Holm in UFC 193, still stings.
During an interview with Ellen DeGeneres, a tearful Rousey revealed the depths of her heartbreak in the immediate moments after the first defeat of her professional career, saying,
To be honest... I was sitting in the corner [of the medical room], and I was like, 'What am I anymore if I'm not this?' And I was literally sitting there and, like, thinking about killing myself.
She went on to reveal more of what she was thinking at the time -- that she's "nothing" and "no one gives a sh*t about [her] anymore without this" -- but then said the immediate sight of her boyfriend, fellow MMA fighter Travis Browne, helped her cope.
Rousey said,
I was meant to have him when I was at my lowest, for sure.
Despite how much the loss hurt, Rousey thought her publicly bouncing back from failure could send a positive message to others. And, as far as that one loss goes, well, she has a different record in her head.
She said,
I really do believe I'm still undefeated because being defeated is a choice. Everybody has losses in their life, but I choose to always be undefeated.
Check out the video above for her complete comments on the fight.
Citations: Ronda Rousey contemplated suicide after upsetting loss to Holly Holm (Mashable)