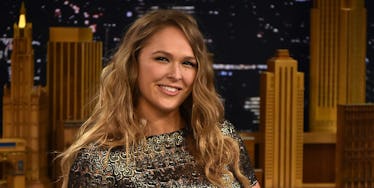 How Ronda Rousey Redefines Beauty Standards In The 2016 Swimsuit Issue
Getty Images
Two weeks ago, Sports Illustrated announced via Instagram that UFC fighter, Ronda Rousey, will be featured in the annual Swimsuit Issue wearing nothing but body paint.
Whether or not she will grace the cover will not be revealed until the magazine is released in mid-February, but speculation is already swirling that 2016 might mark the first year the magazine will feature an actual athlete as its cover model.
Sports Illustrated's yearly Swimsuit Issue was launched in 1964 by the magazine's founder as a way to keep readers interested during a lull between sports seasons.
It's been a topic of conversation and controversy ever since.
From Rousey's occupation and her painted-on, faux swimsuit to the broader conversation about women posing for nude photos, 2016 won't be any exception.
Despite the fact that the Swimsuit Issue is — of course — born out of a publication dedicated to sports, the magazine didn't feature an athlete on its pages until its 30th anniversary in 1994, when swimmer Dara Torres made an appearance in a high-necked, one piece Speedo, flanked by Kathy Ireland and Elle Macpherson.
Since then, athletes including Venus and Serena Williams (tennis), Anna Kournikova (tennis), Danica Patrick (auto racing), Lindsey Vonn (skiing) and Alex Morgan (soccer) have all been featured.
None have been selected to appear on the cover, though.
That honor has been described as the "arbiter of supermodel succession."
The significance of featuring an athlete on a stage typically reserved for supermodels is not to be understated.
It represents a waining cultural interest in obsessing over simply what a woman looks like.
This is representative of a growing willingness to not only accept strong, powerful women as feminine, but to also celebrate them for their strength.
If the cover of the Swimsuit Issue is, in fact, the arbiter of supermodel succession, Rousey's appearance would solidify that strong is the new sexy.
Rousey — who appeared in the 2015 issue as well — is the first mixed martial artist to be featured.
She happens to be the highest-paid fighter — male or female — in the UFC, the first US woman to earn an Olympic medal in judo and the "Best Female Athlete Ever," according to ESPN.
While she happens to have the good looks to have parlayed her athletic fame into a variety of modeling and acting roles as well, she's been vocal about taking pride in what her body does, not just how it looks.
She has a term, in fact, for women who "just [try] to be pretty and get taken care of by someone else": DNB, which stands for "Do Nothing Bitch."
Rousey says,
[T]here's not a single muscle on my body that isn't for a purpose. Because I'm not a do nothing bitch.
So, how does posing nude — or whatever state of undress appropriately describes body paint — fit into Rousey's philosophy?
I think the relationship a female athlete has with her body is fundamentally different from the relationship a model has with hers.
An athlete's body is her tool, her machine and her craft.
She relies on how her body performs — objectively — to earn her living, participate in her passion and advance in her career.
Her success is not dependent on someone else's arbitrary evaluation of her body, but on her own merits.
Inherent in that, I believe, is a deep sense of gratitude for one's body and a sense of pride for the hard work required to keep it performing at the highest level possible.
While the appearance of her body might be a byproduct of the training required for her sport, how her body looks is largely irrelevant upon her ability to perform.
Rousey herself has described her painted-on one piece — replicating a swimsuit aptly named "the fighter" — as a "masterpiece."
Based on the photos I've seen, the 14-hour paint job and Rousey's capable, athletic canvas truly are masterpieces.
It's about time a swimsuit issue hailing from a publication dedicated to celebrating the beauty of sports finally features a true athlete on its cover.
It's about time to pass along the supermodel baton to a woman who happens to look good in a bathing suit, but more importantly, whose body represents how powerful the female form can be.
It's time to celebrate strong.