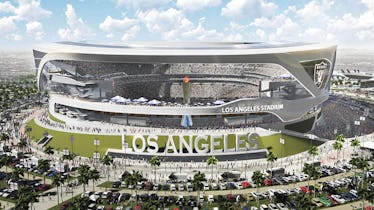 This Proposal For The Brand New Los Angeles NFL Stadium Is Incredible (Video)
By now, we know an NFL franchise coming back to Los Angeles isn't just a possibility: It's inevitable.
And with the proposal for a new stadium in Carson that could house both the Raiders and the Chargers, we may have found the centerpiece for Southern California sports for the next 50 years.
This dope video narrated by Kiefer Sutherland reveals a state-of-the-art entertainment and sports complex that will surely cost a sh*tload of money, but it will be too f*cking lit when it's done.
This is the place to be seen watching a game -- whether it's because of the farmers market or the VIP valet for you rich bastards. Football in LA is already a match made in heaven, but you know the city needs the stadium to match.
But these are the real questions: Will there be a marijuana dispensary on site, and can we blow loud during the games?