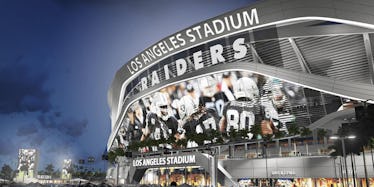 The NFL's Return To LA Would Make It The Greatest Sports Town In America
Twitter
It's hard to imagine a more perfect sports city than Los Angeles.
Besides having ideal weather, it's been home to several championship teams in the past, and with celebrities showing up to support whichever team is winning, star players tend to stay in the city that elevates their status.
Kobe Bryant earned over $320 million from salary alone throughout his 19-year career, all in Los Angeles.
The sports industry is booming in Los Angeles, and in 2012, professional franchises were responsible for $4.1 billion of the city's $823 billion economy.
So, what does that tell us? There's a lot of money for athletes in LA.
With the Lakers, Clippers, Dodgers and even the Galaxy all attracting fans and free agent athletes alike, sports culture in LA is nearly perfect. Of course, there's just one thing missing: an NFL franchise.
LA hasn't had a professional football team since 1995.
It's been two decades since Los Angeles has had a pro football team — when it was home to both the Rams and the Raiders — and as the second-largest media market in the US, that's just unacceptable.
With the San Diego Chargers, St. Louis Rams and Oakland Raiders all hanging in the balance, owners see this as the perfect opportunity to relocate a team back to Los Angeles and generate serious money.
A group of owners met in Chicago on Tuesday to discuss the details, but this could mean not just one, but two NFL franchises coming back to southern California.
That could all change before Super Bowl 50 in February.
So, what's the timeline looking like? Well, there's two proposed stadiums being looked at now.
According to former San Francisco 49ers Carmen Policy, who's presenting stadium plans for a joint Raiders and Chargers stadium in Carson,
Now, it could happen this year. But we've been pretty well-schooled on the fact that even if it doesn't happen this year, it'll happen before the Super Bowl.
That project would cost an estimated $1.7 billion to construct, however, Chargers owner Dean Spanos is still fighting to build a new $1.1 billion stadium for the Chargers to stay in San Diego, which controversially would use taxpayer money.
Rams owner Stan Kroenke, on the other hand, seems the most receptive to moving his franchise to Los Angeles and has even proposed other plans in Inglewood, that would compete with the Carson location.
At this point, the biggest issue is figuring out where to build a new NFL stadium that could house two teams and a Super Bowl.
Los Angeles already has a strong football culture and history.
Of course, LA already has one of the richest football histories in the country, with the old LA Coliseum remaining as a reminder of that, but the city hasn't had a pro football team since 1995.
Stars like Bo Jackson and Howie Long helped give the Raiders a tough-guy persona that made them one of the best teams in the league, and legends like Marcus Allen even brought home a Super Bowl.
Eric Dickerson was the most important player in Los Angeles Rams history even though he finished his career elsewhere. It's easy to forget just how huge the NFL once was in LA.
USC and UCLA have enjoyed being LA's only football teams.
The USC Trojans teams of the early to mid-2000s proved just how much hype a city like Los Angeles could create to support a football team.
And with UCLA re-emerging as a force at the collegiate level, this is just a place dying for an NFL team to help reignite the football culture in LA.
Football means much more to Los Angeles than just another professional sports team.
In ESPN's "30 For 30: Straight Outta LA," documenting the NFL's dominance in Los Angeles during the 60s-90s, Ice Cube shows just how much football meant to the city's identity.
During a time when the city was going through racial turmoil, football represented the fight that everybody, especially in hip-hop, had at the time. Snoop Dogg said,
It was like a perfect combination, you know, we needed something like that to solidify what we was doing, to give us what we were missing, and we gave them what they was missing: a home.
Even 20 years later, these men remember what an NFL team meant to the city of Los Angeles and why they need it back.
Bottom line: Now is the right time to bring an NFL franchise back to Los Angeles.
For the three mid-level teams looking to bring excitement back to their organizations and build a bigger fanbase, relocating to Los Angeles isn't just the right choice, it's the only choice.
Numbers don't lie and the money that could be earned, TV deals, new jobs created and a whole new market, should be enough for any billionaire owner to jump right at the opportunity.
If Los Angeles isn't already the best sports city in America, they're just an NFL team away from the title.