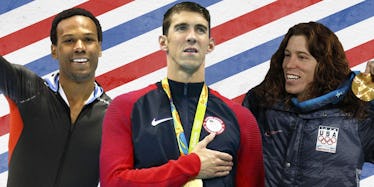 Which US Olympic Gold Medalist You Should Date Based On Your Zodiac Sign
REUTERS
The 2016 Summer Olympics are in full swing in Rio de Janeiro, Brazil, and with the fun and games come the world's most incredible athletes.
Whether they're scantily clad in Speedos or armed with bows and arrows, it's obvious they all have one thing in common: sex appeal.
Here's which gold medalists from Olympics past and present you should date based on your zodiac sign.
Aquarius: David Boudia
You're a deep thinker and try to understand life on a spiritual level, which is why 2012 US Olympic gold medal diver David Boudia scores a perfect 10 in your heart.
Boudia lives his life with purpose and believes the Olympics are a way to help the world coexist, even when the road ahead may seem bumpy.
Take one look into those green eyes, and you'll suddenly consider yourself a believer.
Pisces: Steven Lopez
You're compassionate and friendly -- and definitely a hopeless romantic, which is why Steven Lopez, two-time US gold medalist for Taekwondo, is your perfect match.
He's goal-driven like you (winning gold medals in both the 2000 and 20004 Olympics), but has a soft spot for love.
In 2012, he participated in Fox dating show "The Choice." And if you two hit it off, there's a good chance he may whisk you away to Brazil: Lopez is on the US Taekwondo team for the 2016 Summer Olympics in Rio.
Aries: Michael Phelps
You're a natural-born leader, and you're known for your competitive streak, just like 19-time US Olympic gold medalist swimmer Michael Phelps.
Yeah so he's engaged, but he's the most decorated Olympian of all time, and he's known for his incredible speed and determination when racing through the water… and into your heart.
He was also selected as Team USA's flag bearer for the Summer Olympics in Rio, so you'll catch a glimpse of his megawatt smile in and out of the pool.
Taurus: Kevin Durant
You're reliable, crave stability and stay devoted to those you love, just like your main squeeze, 2012 US Olympic gold medalist and pro-basketball player Kevin Durant.
Nicknamed the "nicest guy in the NBA,"  we're guessing he'll woo you over with a homemade meal and then surprise you with a romcom marathon.
And then he'll donate millions of dollars to charity. Just an average Tuesday with your man!
Gemini: Kerron Clement
You're skilled in many areas of life, and love to experience things freely and independently, which is why you should date 2008 Olympic gold medal-winning track and field runner Kerron Clement.
After watching him break Michael Johnson's indoor 400m world record, you know Clement knows no boundaries, just like you.
And if his Olympic skills didn't impress you enough, Clement spends his free time as a model and an actor, meaning there's literally nothing this man can't do.
Oh, and did we mention Beyoncé chose Clement to be in one of her music videos? Fierce.
Cancer: David Wise
You're a homebody who prefers staying in and watching Netflix to going out clubbing with the girls, and 2014 US Olympic gold medalist and halfpipe skier David Wise wants to be cuddling on the couch with you.
Unfortunately, this baby-faced hunk is married with kids, but that's what makes him so damn appealing. He's a family man by all accounts, and is known to enjoy the simpler things in life.
Maybe you won't be able to steal him away from his beautiful family, but a girl can dream, no?
Leo: Shaun White
You're strong-willed and a bit of a daredevil, so two-time U.S. Olympic gold medalist snowboarder (2006 and 2010) Shaun White will keep you on your toes. Happier flying through the air on a snowboard (he took home gold in 2006 and 2010) or a skateboard (he's competed in 5 different X Games), White is the ultimate thrill-seeker, just like you. Sure, he may have been arrested for public intoxication back in 2012, but what's life without a bit of chaos?
Virgo: Bob Bryan
You pay attention to the details in life and believe hard work will get you where you need to be, just like good-natured 2012 US Olympic gold medal-winning tennis player Bob Bryan.
If you've got a big heart and a good ear for music, love is definitely in the air for you two. And if things don't quite pan out the way you thought they would with Bob, there's always his identical twin brother, Mike, who is also a US Olympic gold medalist.
Kudos to their parents for raising hunky men with wicked backswings.
Libra: Anthony Ervin
You're selfless and empathetic, but you're known for being a bit of a troublemaker, which means 2000 US Olympic gold medalist swimmer Anthony Ervin is the man you were made for.
A self-described mischief-maker, Ervin certainly has a wild side, but he stops at nothing for the people he loves (read: you).
And his compassion doesn't just stop there: he auctioned off the gold medal he won in an effort to raise money for the victims of the 2004 Indian Ocean tsunami. A hottie and a humanitarian.
Scorpio: Shani Davis
You're fiercely independent and know no limits. If you crossed paths with 2008 US Olympic gold medalist speed skater Shani Davis, nothing would be able to stop the powerful attraction you'd have for one another.
Davis became the first black athlete to take home the gold in an individual sport – the speed skating 1,000 meter event – so he's the walking definition of the word "limitless."
Put the two of you together, and you'll be unstoppable.
Sagittarius: Ryan Lochte
You live to have a good time and can't resist a guy who can make you laugh, which is why five-time US Olympic gold medalist swimmer Ryan Lochte is the Harry to your Sally.
Whether he's wearing patriotic grills or starring on E!'s "What Would Ryan Lochte Do?" life is one big party for him -- and you want in on the fun.
When it comes down to it, you wouldn't want to celebrate with anyone other than this speedo-clad hunk.
And did we mention you might even be able to find him on Tinder?
Jeahhh.
Capricorn: Justin Olsen
You're responsible and disciplined with incredible self-control, and 2010 US Olympic gold medal-winning bobsledder Justin Olsen is totally compatible with you.
Not only is he driven and focused within the very challenging sport of bobsledding, but he's also a sergeant in the New York National Guard.
Sir, yes, sir.
[olympics]