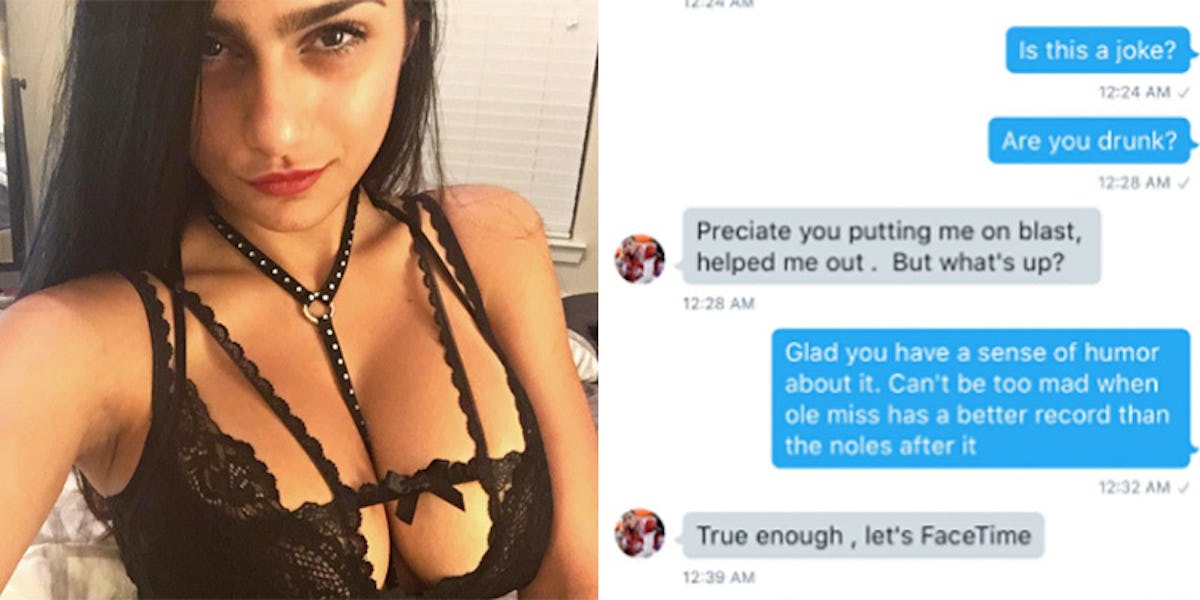 Ole Miss QB Can't Take Hint, Hits On Mia Khalifa After Being Publicly Shamed
Mia Khalifa
Mia Khalifa has no mercy.
For the second time in the span of a month, Ole Miss' Chad Kelly slid into the former porn star's DMs, and she exposed him just as mercilessly as she did the last go around.
Early in the morning on Saturday, Khalifa tweeted a screenshot of Kelly's latest attempt.
YO, @OleMissFB, come get your man pic.twitter.com/FHT2UgU2j0 — Mia Khalifa (@miakhalifa) October 15, 2016
Damn, bruh.
And you know what the funny thing is? The tone of the conversation didn't even seem that combative early on. But as soon as Kelly asked for a little FaceTime session, he got shut down so quick.
Not only did he get exposed on Twitter -- again -- but Khalifa also continued to drag him later that day after Ole Miss suffered a narrow, 34-30 loss to Arkansas.
Her savage move of choice? This Donald Glover meme.
Now that's what you call salt in the wounds.
Initially, though, Khalifa and Kelly looked like they were ready to let bygones be bygones, with Khalifa saying,
Glad you have a sense of humor about it, Can't be too mad when Ole Miss has a better record than the noles after it.
That was a clear reference to two things: (1) the fact that Khalifa's team, the Florida's State Seminoles, has had a worse record than Ole Miss ever since those same two teams met during the first week of the season, and (2) that time Kelly tried to get Khalifa to follow him on Snapchat.
Now, I will say this: The first time this happened to Kelly, I was on his side.
I mean, if you're a college athlete and a super hot chick follows you on Twitter, you're gonna fancy your chances and shoot your shot.
Also, the burn was unfair. She's over here talking about "shoulda spent more time in your playbook." Man, please. It was only two messages.
Lastly, "I'm only following you for seminole recon" is such a bogus explanation on her part. But, I digress.
With that being said, we still have to blame Kelly for this second attempt at sliding in her DMs. Why? Because he should know by now she's quick to screenshot messages.
There was no excuse this time, bruh.