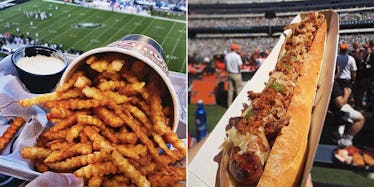 These Are The Wildest Eats You Can Get During The 2015 NFL Season (Photos)
Instagram
With five weeks in the books, the NFL season is most definitely in full swing. The Patriots are undefeated, the Lions look abysmal and the NFC East is once again a weekly pick 'em for who will win the division.
That being said, the NFL has also provided us with one or two early-season storylines we didn't see coming.
The Falcons and Panthers are both undefeated atop the NFC South, the Cardinals look like one of the best teams in football, as do the Andy Dalton-led Bengals, and it's 40-year-old Matt Hasselbeck who has the Colts in first place in the AFC South.
Go figure.
Another surprise this NFL season has been the emergence of some pretty IDGAF eats at stadium concession stands across the country.
Yes, some gut-busters have been around for a few years, but there is also a slew of new items that football fans have been munching down on the last few weeks.
In light of the weather turning colder, in case you needed to justify adding a few extra pounds, check out the wildest eats available at NFL stadiums this season.
This season, The Green Bay Packers are offering quite an inventive take on nachos.
San Diego's Breakfast Mary will help your Saturday night hangover and mess you up for Monday.
This MetLife hot dog looks like it would last you all four quarters of the game.
An entire pizza box full of nachos is the most American football thing ever.
When you can no longer see the actual potato, you know you're at a football game in Texas.
NFL Rule No. 286: Chicken-fried cheese steaks must be accompanied by cheese fries.
The New York Jets have given new meaning to the term "breakfast of champions."
Because in 2015, a hot dog without bacon and mac and cheese is no hot dog at all.
The Lions may be winless this season, but they're certainly doing damage off the field.
These fries look simple, but that crab dip on the left says otherwise.
At Qualcomm Stadium, you can order your cheesesteaks by the foot!
"Brisket Totchos" are a thing, and I'm not quite sure why I'm still sitting at my desk.
This "Midway Monster" is a hot dog topped with corned beef, bacon, sauerkraut and mustard.
Buffalo's "Chicken-n-Waffle-the-Quarterback" would sack even the biggest eater.
Homemade Fritos with melted cheese are what you're missing in life.
You don't have to be a football fan to enjoy pulled pork from Slow's BBQ.
How much tailgating would you have to do to order a two-foot long kielbasa with beer cheese and crispy onions?
The Jaguars are 1-4, but these "Teal Street Tacos" look like a sure bet.
Did someone say house-smoked pork butt, beef brisket, cheesy corn and coleslaw?
Found on the club level @Bears game house smoked pork butt & beef brisket w/ cheesy corn & coleslaw #chicago365 pic.twitter.com/b00RCx4Pph — Aramark Sports (@AramarkSports) September 15, 2013
Citations: http://www.foodandwine.com/slideshows/americas-best-nfl-stadium-eats (Food & Wine), The Best Concessions from Every NFL Stadium in the Country (People)