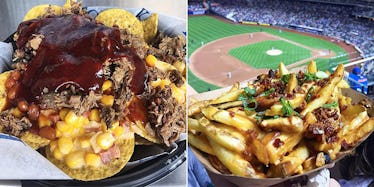 These Are The Wildest Eats You Can Get During The 2015 MLB Playoffs (Photos)
Instagram
October is arguably the greatest month of the year to be a sports fan.
The NHL drops the puck on a new season, the NBA tips off, and there's a football game almost every night of the week.
However, for many sports fans, October will always be synonymous with playoff baseball.
Last October, the Kansas City Royals took us on a magical ride that ended one game short of a World Series victory.
This year, though, feels like a whole new ballgame. We're going to see the Mets, Yankees, Blue Jays, Cubs, Pirates and Astros all make long-awaited playoff returns, while the familiar faces of St. Louis, Los Angeles and Texas will also be in attendance.
In addition to all the action on the field, there will be plenty of plays at the concession stands, where fans will be stuffing their faces in an attempt to calm their nerves and soak up some alcohol.
Thanks to all the new food creations that have invaded Major League ballparks over the last few years, spectators definitely won't just be snacking on boring old hot dogs and Cracker Jacks.
It's 2015, fam, so here are the wildest eats you can get your hands on during this year's MLB postseason.
The Rangers' Boomstick hot dog could not be more Texas.
This October, Royals fans will be munching on cheesy BBQ brisket corn nachos.
The Cubs are celebrating a return to the playoffs with a foot-long hot dog covered in mac and cheese and Cheetos.
Nothing says Bronx, New York like chicken and waffles, right?
When in LA, eat a huge hot dog smothered in pulled pork and BBQ sauce.
Bet you didn't know Queens is famous for fries topped with bacon and cheese.
Apparently, there are fries somewhere underneath all that brisket and cheese.
These buffalo chicken waffle fries will have you extra ready for the seventh-inning stretch.
If waffles and tater tots doused in cheese are a St. Louis thing, book me a ticket.
Only in Canada can you get delicious, fatty poutine at a baseball game.
Pittsburgh ratchet-ups pulled pork sliders by adding pierogis.
The Beltre Buster is just shy of 3,000 calories... but screw it.
Who says you can't get an authentic Greek gyro at a baseball game?
Would you like some chips to go with your salsa, jalapeños, black olives and cheese?
Nothing says playoff baseball like a hot dog-stuffed-crust slice of pizza
Waffle fries are cool, but waffle fries laden with steak and molten cheese are where it's at.
OMG, this is the greatest take on chicken and waffles in the history of mankind.
This is definitely one of those knife-and-fork type of hot dogs.
$100 for anyone who can find the actual hot dog in this picture.
Honestly, this is probably one of the more basic options available this October.
If the action on the field isn't heart-pounding enough, this doughnut burger should do the trick.