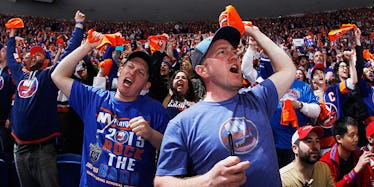 7 Reasons Why True Hockey Fans Can't Wait For The Start Of NHL Season
Getty Images
With October right around the corner, a sports lover's version of heaven is about to materialize. Between the MLB Playoffs, the NFL getting into full swing and the NBA just getting started, many people can't get enough.
However, one sport that doesn't get as much recognition amongst its competitors is the NHL.
But hockey lovers can rejoice because our beloved guys are about to take to the ice once again.
With hockey season comes brutal fights, a lot of beer, manic arguments between friends and enemies, the famed dangle, snipe and celly, a whole lot of chirping and a hell of a lot of fun.
Here are seven reasons this upcoming NHL season is going to be one of the best yet:
1. Fresh Faces
This year, we are going to be able to watch some of the most talented newcomers to hit the league in quite a while: Jack Eichel and Connor McDavid. When last year's draft took place, these two names were at the top of everyone's list.
Eichel was selected second overall by the Buffalo Sabres, while McDavid was selected first overall by the Edmonton Oilers. Therefore, it came as no surprise to anyone that they led the 2015 draft class. Both men are the young age of 18, and both are supremely talented.
At Boston University, Eichel was the first freshman since 1993 to receive the Hobey Baker Award, which goes to the leading Division I scorer. He won the award with 71 points in 40 games.
On the other hand, McDavid has been touted as the best prospect to enter the league in the last 30 years. He is more highly sought after than Pavel Datsyuk, Sidney Crosby, Alex Ovechkin and a multitude of others.
That is quite the compliment to such a young player.
It seems that no matter what happens this upcoming season, Eichel and McDavid are going to the two players to watch.
2. An Explosive Winter Classic
The annual Winter Classic game, held in an outdoor arena on New Year's Day, is always something to look forward to. This year, it's going to be even more intense.
However, what makes this year's game so special?  The fact that Montreal and Boston are facing off.  These two Original Six franchises absolutely despise each other. There is nothing else like it in sports.
Gillette Stadium holds 68,756 people. It is all but guaranteed that this game will sell out, with plenty of Montreal fans descending on Foxbourough, creating an electric atmosphere that will feel more like Game Seven of the playoffs than a regular season game.
Playing an outdoor hockey game is never as easy as it seems. However, all difficulties set aside, this match-up is sure to add another outstanding chapter to the rivalry between Boston and Montreal.
3. The Return Of Bad Blood
Speaking of nasty rivalries, between 1996 and 2002, the hatred between the Detroit Red Wings and the Colorado Avalanche was perhaps the most heated in all professional sports. Old wounds are about to be reopened.
In the 1996 playoffs, Colorado's Claude Lemieux demolished Detroit's Kris Draper, checking him face-first into the boards. This broke Draper's jaw and shattered his cheek and orbital bones.
What ensued 301 days later is the stuff of hockey legend.
On March 26, 1997, at Joe Louis Arena in Detroit, every feeling of hatred and resentment boiled over when a fight broke out between Detroit's Igor Larinov and Colorado's Peter Forsberg. While this was happening, Detroit's infamous enforcer, Darren McCarty, headed straight for Lemiuex, ripped off his helmet and landed several punches in Lemiuex's face.
With everyone's attention on McCarty and Lemieux, Avalanche goalie Patrick Roy came out of the net to defend his teammate.  He met with an airborne Brendan Shanahan, who flew into him and knocked him to the ground.
The incident was dubbed "Fight Night at the Joe," with the Red Wings getting divine retribution on an overtime goal by Darren McCarty. Detroit went on to win the Stanley Cup that year.
Flash forward to Feb. 26, and these players are about the meet. Will the bad blood come to light once again?
4. The Circus In Chicago
One of the most intriguing teams this year is going to be the Chicago Blackhawks. This is for two reasons, the first being the sexual assault debacle involving their star player, Patrick Kane.
As has been widely reported, Kane is being investigated for the sexual assault of a young woman from Buffalo, NY.
After the alleged incident, the woman reportedly immediately went to the hospital to have a rape kit examination. Despite these allegations, Kane was invited to Blackhawks' training camp, where a very bizarre and awkward press conference was held, in which he insisted he was only to be asked questions related to hockey.
Needless to say, this did not happen. Kane and others were incessantly questioned about anything related to the incident.
This did everything but shine a positive light on the organization, and the rest of the league and its fans are wondering why Kane is even at camp with such a serious ongoing investigation.
While everyone's focus is currently on Patrick Kane, it is also important to remember the Blackhawks lost several key players from last year's championship run.
The defending champs lost Patrick Sharp, Brandon Saad, Johnny Oduya, Brad Richards and Kris Versteeg. The loss of Sharp Saad and Oduya have no doubt hit the organization the hardest, and replacing them is no easy task.
It is going to be very interesting to see how well the new guys can fill the shoes of the former Hawks veterans.
If all goes well, Chicago can look forward to another Stanley Cup run. If it doesn't, there are still going to be a lot of questions asked.
5. Mike Babcock's Debut In Toronto
This past offseason, the Toronto Maple Leafs landed arguably the best coach in the game right now: Mike Babcock.
Babcock, the head coach of the Detroit Red Wings for the previous 10 seasons, had a regular season record of 458-223-105 during his tenure. During this time, he was the franchise leader in wins and games coached.  In the 2007-2008 season, he led the Wings to the Stanley Cup title and the 11th in team history.
While Babcock was in Detroit, Toronto struggled consistently, finishing 30-44-8 last season.
This switch has created a very disgruntled organization, roster and fan base. The fans have even taken to throwing their jerseys from the stands on several occasions.
While it is true that this was a great move by the Toronto organization, it is going to take a lot more than a coaching change to make them competitors again. If Babcock can get them to be a tough team this season, it will give them the building blocks to succeed again.
6. 25 Years Of Excellence
As of last season, the Detroit Red Wings have made the NHL playoffs for 24 consecutive years. They have been in the playoffs longer than I have been alive.
This is the longest active playoff streak in North American franchise history.
Perhaps what makes this streak so special is the absolute toughness that is essential in hockey.  No sport is as physically or mentally tough, grueling and just plain violent.
Despite losing coach Mike Babcock to Toronto, the Wings are in great hands with Jeff Blashill, who previously coached and won a championship for their AHL affiliate, the Grand Rapids Griffins.
With superb leadership, seasoned veterans and stunning young talent, the Red Wings look primed to make the playoffs for the 25th consecutive season. Prepare to see a lot of Octopi thrown on the ice this year.
7. The Holy Grail Of Sports
If you are a stranger to the NHL and lacking some excitement in your life, I suggest you tune in.
Hockey playoffs are like none other.  The intensity is turned up to insane decibels and every single second counts.
It is known for its violence, the beards, the "Kronwallings," the endless overtimes, the storied handshake line, the ever-present Octopus flying from the stands at the Joe and the Game 7s.
If you thought the players might be burnt out after a long season, think twice. These guys are not human when it comes to the playoffs.
There is a reason it is the most coveted trophy in sports. Nothing is fought for as hard as Lord Stanley's Cup is, and the looks on the players' faces when they hoist it proves just that.
There are really no words to describe the joy and pain of hockey.