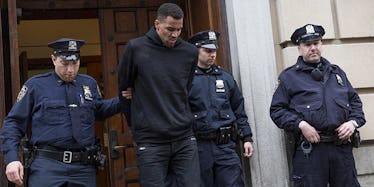 Here's Why An NBA Player Is Suing The NYPD For 'An Act Of Police Brutality'
REUTERS/Andrew Kelly
Days after multiple reports indicated Thabo Sefolosha was preparing to take legal action against the New York Police Department, the rumor finally became official.
The Atlanta Hawks guard is now suing the city of New York and five of its police officers, according to ESPN's Kevin Arnovitz.
The suit traces back to an episode Sefolosha explicitly described as "an act of police brutality" in an essay for GQ.
What Sefolosha was referring to was his arrest outside of 1 OAK nightclub in Manhattan last April, a night from which he emerged with a leg injury that kept him out of the 2015 NBA Playoffs.
Six months later, Sefolosha was found not guilty in a Manhattan Criminal Court trial, in which the evidence seemed to favor the NBA player to an almost comical degree.
After the trial, Sefolosha's representation filed a notice of claim, which did two things: The notice set the maximum amount he could receive in damages at $50 million and preserved the 31-year-old's right to sue while he and his attorneys pondered whether they actually would.
Today, that decision finally came, and the filing of the suit by the 10-year NBA veteran arrived a year after this sensational story began.
On the morning of April 8, Sefolosha and former Hawks teammate Pero Antić were arrested outside 1 OAK.
Sefolosha came out of the arrest with a leg injury that kept him out of the 2015 playoffs, during which he was supposed to play with the then-number-one seed, the Hawks.
In October, Sefolosha rejected a relatively generous plea deal and risked deportation and jail time to play out his trial in public.
Here, Sefolosha went against the advice of his attorney, who advised the player to take a plea deal that would have essentially required just one day of community service, according to an interview from "The Daily Show." Instead of taking the deal, Sefolosha risked his contract to play out the legal process.
The feature from "The Daily Show" explains why Sefolosha took these steps and puts into context what he risked, essentially so he could stand on principle.
The Daily Show with Trevor Noah Get More: The Daily Show Full Episodes,The Daily Show on Facebook,The Daily Show Video Archive
After being found not guilty in court, Sefolosha expressed joy but also lamented the fact he was only able to fight the case because he had the money to do so.
He explained,
Justice was served yesterday, it pains me to think about all of the innocent people who aren't fortunate enough to have the resources, visibility and access to quality legal counsel that I have had.
Now, though, the player is using his resources to sue the NYPD and the city of New York.
Citations: Thabo Sefolosha sues five NYC police officers (ESPN), GQ Exclusive: NBA Star Thabo Sefolosha Tells His Story of Assault by the NYPD (GQ), Atlanta Hawks forward Thabo Sefolosha not guilty of resisting arrest outside 1OAK, Manhattan jury decides (New York Daily News)