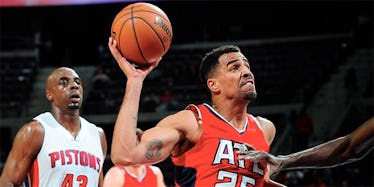 NYPD Had Craziest Excuse For Why NBA Player's Leg Was Broken After Arrest
Twitter/Atlanta Hawks
An NYPD officer offered a near-unbelievable account to explain why NBA player Thabo Sefolosha came out of an encounter with police with a broken leg.
Sefolosha is currently in the middle of a trial after being charged with resisting arrest and disorderly conduct. A video of his arrest is displayed above.
After the encounter, Sefolosha could not compete in the playoffs with his team, the number one-seeded Atlanta Hawks, because of the injury he suffered on the early morning of April 8 outside of the 1 OAK nightclub in Manhattan.
And while it seems evident the multiple officers who took Sefolosha down are responsible for his injury, police officer Daniel Dongvort maintains he and his colleagues were not at fault.
His explanation? It was, in essence, along the lines of, "It was like that before we got there."
okay, this part from the sefolosha trial is just hysterical pic.twitter.com/Wwvb1LRUy7 — El Flaco (@bomani_jones) October 7, 2015
Sefolosha did indeed play 20 minutes in a game on the night of April 7 against the Phoenix Suns before flying with his team to New York to play the Brooklyn Nets on the night of April 8.
He never made it into the Nets game, though, because of a broken leg that, if you're to believe Officer Dongvort, was already there before the NYPD got to him.
Citations: Thabo Sefolosha's Trial Opens With Clashing Accounts of Scuffle With Police (The New York Times)