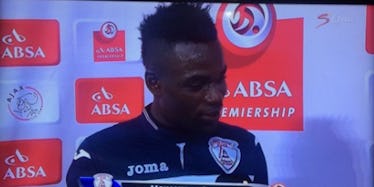 No One's Buying Soccer Player's Creepy Excuse For Thanking Wife And GF In Video
Twitter
Earlier this week, the internet collectively laughed when a soccer player managed to thank his wife AND his girlfriend in an awkward post-game interview.
It was a pretty odd moment, to say the least, so credit Mohammed Anas for somehow making the situation even weirder.
In what is surely a desperate attempt to get out of the dog house (good luck with that, buddy) the player from Ghana has come up with an excuse that is equal parts bizarre and creepy.
He claimed he was actually thanking his daughter, who he calls his girlfriend, telling the BBC,
My family knows that I call my daughter my girlfriend. That's what I was talking about. I don't have a girlfriend.
Let that sink in.
If it's true, it's really, really weird, dude.
But let's be real here — I'm not sure anyone's buying his excuse.
People on Twitter are particularly suspicious.
Anas told the BBC he has been with his wife for seven years.
He said,
I love her so much. She's given me two beautiful children. She is fine. She knows what kind of man I am, so I am not worried.
When discussing the now-infamous video, he said,
I'm famous now. People around the world know me.
His chilled explanation is in complete contrast to his look of sheer panic when he realized he had thanked both his wife and girlfriend on live TV.
Anas was interviewed after the game between his South African team, Free State Stars, and Ajax Cape Town.
This is when he said,
I appreciate my fans, also my wife and my girlfriend. I mean my wife. Sorry to say, I mean, my wife. I'm so sorry, my wife. I love you so much. I love you so much from my heart.
If you call your daughter your girlfriend and your wife knows that, Mohammed, why did you try so hard to correct yourself?
Citations: Mohammed Anas: Ghana's viral footballer denies having girlfriend (BBC)