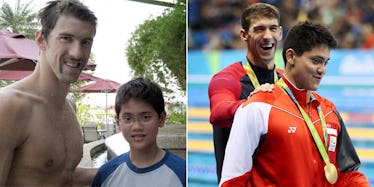 The Guy Who Beat Michael Phelps At The Rio Olympics Was Actually A Childhood Fan
REUTERS
The only people better than Michael Phelps these days are his prodigies.
It looks pretty safe to say that now, especially considering what happened on Friday night.
Phelps actually came in second (crazy, we know) in the men's 100-meter butterfly at the Rio Olympics, getting beat out by Singapore's Joseph Schooling. And, it turns out 21-year-old Schooling had history with Phelps.
Yep, the guy who beat Michael Phelps is an old fan of his.
Schooling told The Guardian about the story, which apparently was when USA swimming held a camp in Singapore.
He said,
They came to the country club that I trained at. Everyone just rushed up and was like, 'It's Michael Phelps! It's Michael Phelps!' and I really wanted a picture.
This is the second photo of the week that basically emphasizes Phelps' status as the OG of the swimming game. Earlier this week, another picture of him surfaced, this time showing him with a 9-year-old Katie Ledecky.
So, here's a thesis: The only people able to upstage Phelps at the Rio Olympics (Ledecky and Schooling) are kids whom he's inspired to reach new and never-before-seen levels of success.
And here's a supporting detail.
Schooling told The Guardian,
If it wasn't for Michael, I don't think I could have gotten to this point. I wanted to be like him as a kid. I think a lot of this is because of Michael. He is the reason why I wanted to be a better swimmer.
Our work here is done. And, after these Olympics, so will Phelps'.
Citations: The boy who grew up to beat his swimming idol, Michael Phelps (ESPN), Michael Phelps taught a lesson for once – by Singapore's Joseph Schooling (The Guardian)