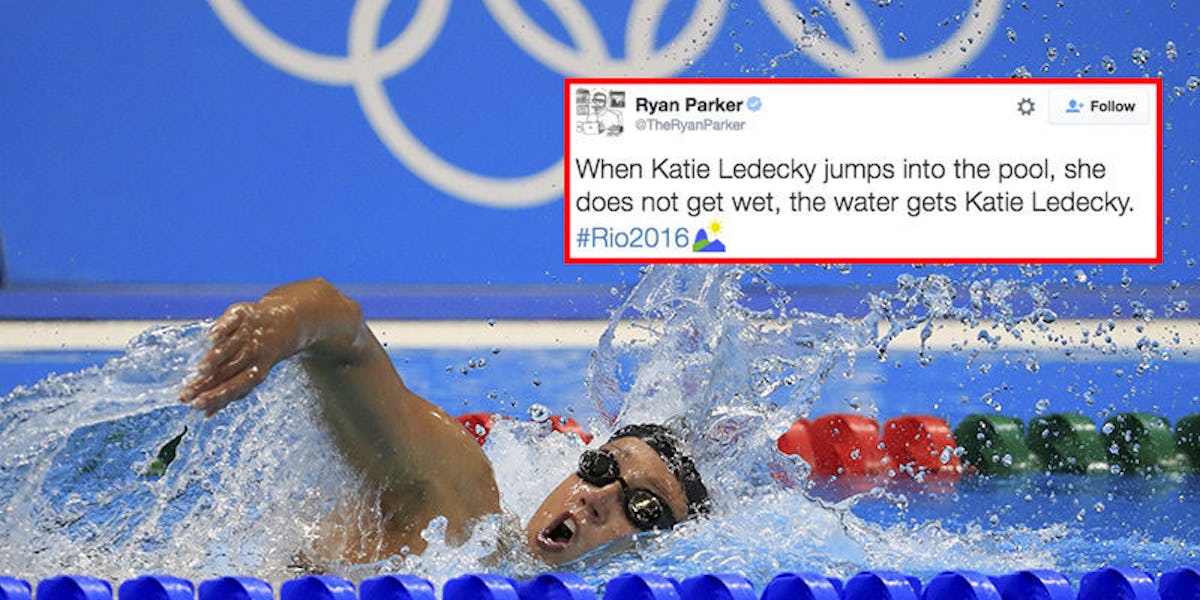 People On Twitter Could Not Get Over Katie Ledecky's Insane 800-Meter Win
REUTERS
If you haven't heard, Katie Ledecky is kinda ridiculous.
On Friday night, the 19-year-old won the gold medal in the 800-meter freestyle by 11 seconds. Basically, she blew everyone out of the water, and then blew Olympics-watching Twitter's mind in the process.
She was so good that the only person who was a serious threat to her was herself -- her 15-year-old self, that is.
Ledecky was practically racing against a yellow line on Friday night, which represents the Olympic record she set at the 2012 Olympics.
Needless to say, she crushed it, and people couldn't wrap their heads around how.
Ultimately, everyone was singing from the same hymn sheet: Ledecky really is amazing.
While Michael Phelps is reportedly leaving the game for good, Ledecky is seamlessly replacing him as the greatest name in her sport, man or woman.
And she's only 19! By the time she's his age, 31, she could still be dominating the swimming events at the 2028 Olympics.
According to the Los Angeles Times, Ledecky said of her incredible, record-breaking win,
I just wanted to push myself and see what I could do. The Olympics are the pinnacle of our sport and I have to wait four more years to have that moment again, so I wanted the last one to be special.
For someone so young, there should definitely be more of those special moments to come.
Citations: Michael Phelps on Olympic future: 'I am not coming back in four years' (USA Today), Katie Ledecky makes history look easy as she breaks her world record in 800 freestyle (Los Angeles Times)