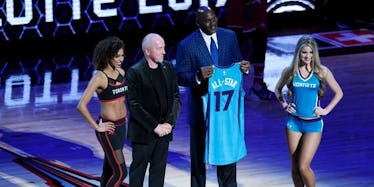 Michael Jordan Just Threatened To Move The Hornets Out Of North Carolina
USA TODAY Sports
*Editor's Note: This story is based upon a false report that was later revealed to be an ABC News parody account.
Charlotte Hornets owner Michael Jordan isn't playing games. According to reports, the six-time NBA champion claimed he will move the Hornets out of North Carolina if the state's discriminatory HB 2 law, aka the bathroom bill, isn't overturned.
Jordan reportedly said,
With this new law in place, North Carolina currently does not have any anti-discrimination protection in place, something that is vital, not just for our fans but for everyone.
He continued,
We are giving the state of North Carolina 30 days to repeal this law or they can expect the the Charlotte Hornets to play elsewhere. I want to make it clear that neither the Hornets nor I will not stand for this type of intolerance and hate.
Bravo. Finally, a person of power and influence is using his or her status to stand up to what many see as nothing but bigotry and prejudice.
North Carolina passed HB 2 into law in March, effectively putting the United States on notice any transgender people who are in North Carolina will have to use public restrooms based on the sexes on their birth certificates.
Over the last few months, many spoke out against HB 2, but having someone like Michael Jordan stand up and make such a bold threat could make for some actual change.
To put Jordan's promise into perspective, more than 5,000 employment positions have already reportedly been moved out of North Carolina following the passage of HB 2.
Bruce Springsteen, Pearl Jam and others also canceled concerts in protest of the law.
At the moment, the NBA is slated to hold the 2017 All-Star game in Charlotte, but if Jordan moves the Hornets, that could definitely force NBA Commissioner Adam Silver's hand in changing the venue.
Silver already stated his willingness to entertain that idea.
According to reports, the state of North Carolina already lost anywhere between $186 million and $300 million in revenue due to boycotts.
Jordan wrapped up his press conference by reportedly saying,
As my organization has stated previously, the Charlotte Hornets and Hornets Sports & Entertainment are opposed to discrimination in any form, and we have always sought to provide an inclusive environment. As has been the case since the building opened, we will continue to ensure that all fans, players and employees feel welcome while at work or attending NBA games. If that means moving the team out of the state if North Carolina doesn't repeal HB2, then that is what we are prepared to do.
It looks like the ball is in the North Carolina legislature's court now.
Citations: Michael Jordan To North Carolina: 'HB2 Goes Or The Charlotte Hornets Go' (ABC News)