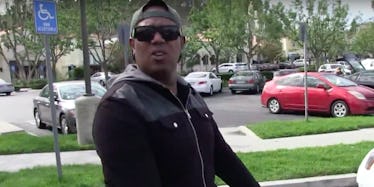 Master P Calls Kobe Bryant Visiting Lamar Odom In The Hospital 'Fake' (Video)
Master P, the rapper and longtime friend of Lamar Odom, labeled Kobe Bryant "phony" in the wake of Odom's health crisis.
Among others, Bryant was called essentially called a "fake" friend to Odom by Master P, despite the fact Bryant reportedly left the middle of a preseason game to rush to his former teammate's hospital room.
The rapper, who referred to himself as a mentor of Odom, told TMZ,
All [Lamar] wanted to do is play basketball. If Kobe was his friend -- Kobe like, owns the team -- he could've got the man back on the team. That's all [Lamar] wanted, you know. And even on that situation, I think he was just searching for love. You look at it, his biggest problem was where the people at that he showed love to, 'cause he had a big heart... It's phony, man.
Master P's comments in full could be seen in the video above, and whether or not his specific remarks here are over the top, the overarching theme of his statements seems to be clear: Odom was abandoned by the people who have shown the most emotion toward him during this troubling time.
Citations: Master P Claims Kobe Bryant & The Kardashians' Support For Lamar Odom Is An Act (VIBE), Master P Kobe Bryant Is a Phony You Could've Saved Lamar Odom (TMZ), Bryant, Kupchak leave Lakers game, visit Odom in hospital (FOX Sports)