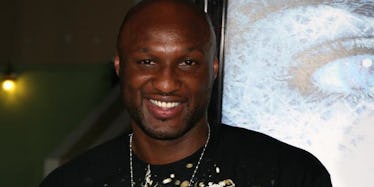 Lamar Odom's Teammates And Other Celebs Are Praying For His Recovery
Getty Images
On Tuesday, authorities confirmed former NBA star and ex-husband of Khloé Kardashian Lamar Odom was rushed to a Las Vegas hospital after he was found unconscious in a Nevada brothel.
The incident reportedly happened at Love Ranch, a legal brothel owned by Dennis Hof, whose other property, the Moonlite BunnyRanch, was the subject of HBO's documentary series "Cathouse."
Hof claims before Odom passed out, he had taken a substantial amount of "herbal Viagra," but according to reports, no illegal drugs were found in his room.
Hof told reporters,
We called 911, and the 911 said 'roll him on his left side'... And he started throwing up all kinds of stuff. Foaming. Throwing up all kinds of things.
Nye County Sheriff Sharon Wehrly says Odom was first treated at Desert View Hospital in Pahrump before being driven 60 miles to Sunrise Hospital in Las Vegas. NBC News reports the original plan was to helicopter Odom from Desert View to Sunrise, but he was too big to fit in the helicopter.
TMZ is reporting he is in critical condition, saying he still is in a coma with serious damage to his heart, kidney and lungs.
Khloé is allegedly at the hospital and by his side while this all is going on.
Various former and current NBA players as well as full organizations have sent their wishes to Odom.
PRAYERS all the way UP for my brother Lamar Odom!!! — DWade (@DwyaneWade) October 14, 2015
Prayers go out to Lamar Odom and his family please God anything u can do to help him thru this — Paul Pierce (@paulpierce34) October 14, 2015
Praying for my boy L O.... Prayers up!!! — Vince Carter (@mrvincecarter15) October 14, 2015
Everyone that reads this post, please pray for my friend Lamar Odom that he makes a full recovery. #MyHeartHurts — SHAQ (@SHAQ) October 14, 2015
Our thoughts and prayers are with Lamar Odom and his family at this time. — Miami HEAT (@MiamiHEAT) October 14, 2015
Prayers go out to Lamar Odom. #NBAfamily — Jonas Jerebko (@JonasJerebko) October 14, 2015
Everyone please pray for @RealLamarOdom to make it through this. Great player, even better person! — Kris Humphries (@KrisHumphries) October 14, 2015
Other celebrities also tweeted their support.
Saddened to hear about Lamar Odom.. Hoping he can pull through. — Miles Teller (@Miles_Teller) October 14, 2015
Sending love to Lamar Odom & his family — Ariel Winter (@arielwinter1) October 14, 2015
Praying for my homie @RealLamarOdom please say a prayer for him !!! — MILK TYSON (@MILKTYSON) October 14, 2015
Kendall Jenner posted this heartbreaking tweet.
please don't go. — Kendall Jenner (@KendallJenner) October 14, 2015
Kris Jenner posted a heartfelt message on Instagram. https://instagram.com/p/81ksy9G-Mn/embed/
Citations: Lamar Odoms Former Teammate Dwyane Wade and Other Celebrity Friends Express Support on Social Media (E!)