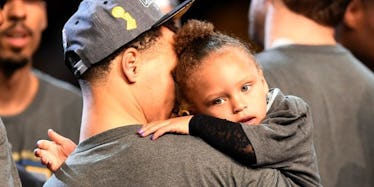 29-Year-Old Riley Curry Isn't Steph's Daughter, So Stop Tweeting At Him
USA TODAY Sports
It's all going south for Steph Curry and the Golden State Warriors right now.
After suffering back-to-back losses in Games 5 and 6, Curry and the Warriors must now come out on top in a winner-take-all Game 7 on Sunday.
In light of Steph and his team's recent losses and Ayesha Curry's rant on Twitter, the Curry name is taking some serious abuse right now. However, those on social media who have been attempting to sling Twitter hate at Steph's daughter Riley Curry have apparently been directing their anger at a 29-year-old dude from Tennessee.
The Twitter handle @rileycurry isn't the adorable little girl who steals the show at postgame press conferences. It's some dude in Nashville who "likes beards and fire."
Shame on the people tweeting at this man. These folks are out of their minds attempting to spew hate at a 3-year-old, and, also, they're clearly not the sharpest knives in the drawer.
Just take a look at some of the ridiculous shit people are attempting to say to Riley Curry.
And it's not just random people raining insults. Bengals running back Jeremy Hill apparently thought he was tweeting at Riley Curry, too.
I'm going to go out on a limb here and say this woman had the wrong Riley Curry, as well.
@TanviShah_ @rileycurry you do know that is a 29 year old man who likes beards and fire that you just tagged? He makes you want babies? — Dan Ward (@Dan_Ward_11) June 17, 2016
Finally, 29-year-old Riley Curry tried to put an end to the madness by tweeting about how savage people are.
Hopefully, Riley Curry and Riley Curry can live in peace from here on out.
Citations: A 29-year-old man named Riley Curry is having a terrible time on Twitter (For The Win)