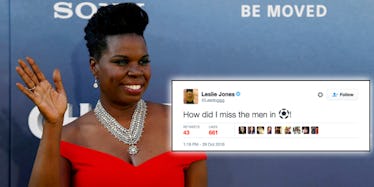 Leslie Jones Is Tweeting Pics Of Naked Soccer Players: 'Jesus Wept'
REUTERS/
Leslie Jones is out here, y'all.
The woman who was literally all of us watching "Game of Thrones" with Seth Myers last June is at it again. This time, Leslie Jones has swapped Jon Snow for Lionel Messi.
I don't know how you spent your Halloween weekend, but I know what Leslie Jones was busy with. Since Friday, Jones has been discovering the sport of soccer and going on Twitter rampages about how hot and sexy all the players and coaches are.
Beginning on Friday, October 28, Jones started going off about how "fucking beautiful" everyone was in the Barcelona-Manchester City Champion's League game.
Ummmm soccer players are HOT!! Even the coaches are fine. Damn! pic.twitter.com/dG2zVmaqRj — Leslie Jones (@Lesdoggg) October 28, 2016
Obviously, though, it didn't stop there. See, I've always known how lit soccer is, albeit for slightly different reasons than Jones', so it's no wonder Lesdoggg spent the rest of the weekend binging on as much soccer as humanly possible.
Late Saturday night, Leslie Jones was clearly feeling some type of way because she tweeted what appears to be a naked picture of Arsenal and France striker Olivier Giroud.
Ok where is the nearest soccer field I'm starting today!! Jesus wept! GOOOOOOOOOOOAAAAAALLLLL!!! pic.twitter.com/C4JkidULBr — Leslie Jones (@Lesdoggg) October 30, 2016
This was also the first of many tweets to contain the phrase "Jesus wept!"
By Sunday afternoon, Leslie Jones was straight-up watching soccer in the hopes of finding a boyfriend, and it's not like you can blame her.
Ok y'all soccer is on today I'm gonna be looking for a boyfriend lmao pic.twitter.com/6p6A6ZfwEn — Leslie Jones (@Lesdoggg) October 30, 2016
Thankfully, Jones is a Verizon customer -- has anyone ever said that before? -- which means she was able to watch as much soccer as she could find on Sunday.
many games y'all got to tell me where to go.I got Verizon. And I'm getting confused by names of teams. But I want to see the good ones HELP! pic.twitter.com/PQOh9jopdz — Leslie Jones (@Lesdoggg) October 30, 2016
So handsome pic.twitter.com/rqCxgUmch4 — Leslie Jones (@Lesdoggg) October 30, 2016
I really like soccer I really dooooooooooo! pic.twitter.com/6UsY2789ef — Leslie Jones (@Lesdoggg) October 30, 2016
I don't think y'all understand the extent to which Leslie Jones was going in on these hot soccer players and coaches this weekend.
She couldn't care less about costumes and candy, trust.
Jesus wept!! I can't concentrate pic.twitter.com/Uy2Ox88dpe — Leslie Jones (@Lesdoggg) October 30, 2016
OLE OLE OLE OLE OOOLE OLE OLE YOOOOOO THEY SO FINE! pic.twitter.com/2XAUPT4mEJ — Leslie Jones (@Lesdoggg) October 30, 2016
Naturally, Jones now wants to see all these hot dudes in person, which is why she asked Twitter to get her to a live game.
It didn't take long for NYCFC to invite Leslie Jones to their playoff game on Sunday, November 6.
.@Lesdoggg we'll take care of you Leslie! November 6th, under the bright lights at Yankee Stadium #SupportYourCity — New York City FC (@NYCFC) October 30, 2016
And you thought you had a good weekend.
Citations: Leslie Jones found out soccer players are hot and she's losing her mind (FOX Sports)