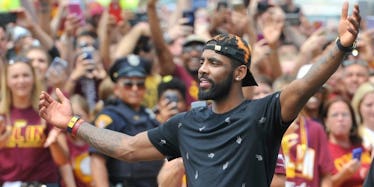 Kyrie Irving Continues His Celebrations With Hot Chicks In The Bahamas
USA TODAY Sports
The summer of Kyrie Irving continued this weekend, with the latest chapter taking place at Atlantis in the Bahamas.
Before becoming an NBA champion this month, Kyrie Irving had been looked at as a dude who simply couldn't get it done on the biggest stage.
After he drilled the game-winning three ball in Steph Curry's face in Game 7, though, women started taking their clothes off and throwing themselves at him.
Following his shirtless drinking during the Cavaliers' championship parade, Kyrie Irving threw a yacht party of epic proportions.
As you can see in the video above, there was a DJ, of course, and a ton of smoking hot chicks everywhere.
According to reports, Irving continued to keep his game in form by getting down with more hot chicks at a pool bar in the Bahamas.
Warning: The following video contains at least one topless woman.
It looks like Kyrie was also enjoying some delicious chicken fingers and fries.
Hey, partying with hot chicks builds up an appetite, right?
Then, since he was already stealing the show, it looks like Kyrie Irving decided to hop behind the bar and dance to Drake.
Keep doing your thing, Kyrie, and ride this wave as long as it lasts.
If anyone is hating on Kyrie for partying it up with hot chicks on a yacht, in the Bahamas and anywhere else he damn pleases, check yourself and toss that cup of Hatorade.
Let this NBA Finals winner live.
Citations: Kyrie Irving Tore Up Atlantis This Weekend (Busted Coverage)