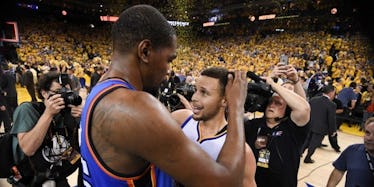 Kevin Durant's Warriors Move Made A Little Kid Cry His Eyes Out
USA TODAY Sports
On Monday, July 4, Kevin Durant sent shockwaves through the NBA universe by announcing his plans to leave the Oklahoma City Thunder and sign with the Golden State Warriors.
In the immediate aftermath of Kevin Durant's decision, which the forward announced via an article he wrote for The Players' Tribune, Oklahoma City Thunder fans started posting videos of themselves burning Thunder merchandise with Durant's name on it.
From jerseys to T-shirts, anything with the name "Durant" on it went up in flames. When LeBron James left the Cleveland Cavaliers for the Miami Heat back in 2010, Cavs fans responded the same way Thunder fans have.
But, not all Oklahoma City Thunder fans reacted to Durant's decision with anger. Some, like this little dude, simply started crying their eyes out after hearing Kevin Durant is heading to the Bay Area.
It's OK, little man. Sure, your favorite team is about to become the latest version of the Utah Jazz, but you'll always have the memories. At least you got to see Kevin Durant and Russell Westbrook ball out and come agonizingly close to an NBA Finals appearance.
For the record, this isn't the first time Kevin Durant made a kid cry, not that there's much of a connection between the two causes.
Also, can we all stop burning things in response to superstars switching teams? You can be angry, sure, but let's try and keep those emotions in check.
Citations: My Next Chapter (The Players' Tribune), Kevin Durant Dropped an F-Bomb, Made a Baby Cry (The Big Lead)