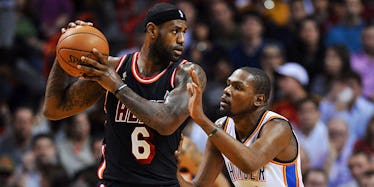 Here's Why Kevin Durant's Warriors Move Is Worse Than LeBron's 'Decision'
USA TODAY SPORTS
There's an obvious comparison to make now that Kevin Durant has decided to join the Golden State Warriors: LeBron James' infamous "Decision" in the summer of 2010.
At the time, everyone killed LeBron James for upsetting the competitive balance in the NBA by taking a "cowardly" if-you-can't-beat-them-join-them approach.
It seemed unthinkable that one team could have the All-Star talents of James, Dwyane Wade and Chris Bosh.
Even Kevin Durant himself, ironically, subtweeted LeBron.
But the biggest irony here is impossible to argue against -- if we're talking about a single move upsetting the competitive balance, Kevin Durant signing with the Warriors is way worse than LeBron's decision to join the Heat.
I can explain in three points:
1. The team he's joining.
The Warriors lost Game 7 of the NBA Finals, sure, but that only means we'll never recognize them as the greatest team ever.
Greatness, though, is subjective. Statistics are not. Statistically, the 2015-16 Golden State Warriors are the best team in NBA history. Their record 73 wins are better than anything Jordan's Bulls or Magic's Lakers did.
Durant is literally joining the best team ever. In contrast, LeBron joined a 47-win Miami Heat team that couldn't even make it out of the first round of the 2010 playoffs.
In fact, they only lasted five games against the Boston Celtics that year. LeBron's arrival made Miami a juggernaut. KD is joining a team that already is a juggernaut and he hasn't even stepped onto the arena floor.
2. The players he's joining.
Nothing defines an if-you-can't-beat-them-join-them move like what Durant just made.
Durant is going to a team that just ripped his heart out in a seven-game series. The Warriors are the reason that Durant didn't have a shot at a ring this year.
As I mentioned above, the Heat weren't even a competitor for LeBron's Cavs when he left Cleveland to head for Florida.
Not only is Durant joining the team he couldn't beat, he's joining the very player that took his MVP crown. After Durant won the 2014 MVP award -- and made his "you da real MVP" speech -- Steph Curry's career took off.
Curry has won two MVP awards since and has taken over the Western Conference. Dwyane Wade, on the other hand, was on a downtrend when LeBron joined him -- Wade went from averaging 30.2 points per game in 2008-09 to 26.6 in 2009-10.
Add that to the fact that Durant will have a younger team that has three legitimate All-Stars (28-year-old Curry and 26-year-olds Draymond Green and Klay Thompson). There's just no comparison.
3. The system he's joining.
Kevin Durant is a high-flying scorer who can shoot threes and whaddya know: now he's joining the best three-point shooting team in history.
The Warriors like to a play a "small" lineup that causes teams so many problems that it's called the death lineup. Now they have a 6-foot-10 forward who can dribble, pass and defend bigger players.
OKC's Achilles' heel is that they could never seem to draw up the right types of plays to get their players easy shots. Golden State, on the other hand, has an offensive scheme that is known for doing just that.
Kevin Durant is going to a team that is not perfectly suited to his strengths but also has a good supporting cast with players like Shaun Livingston and Andre Iguodala.
LeBron's Heat, on the other hand, had an unproven supporting cast and there was some uncertainty as to how exactly they'd hit together.
There's not nearly as much uncertainty here. Kevin Durant is joining the best team ever and from a competitive standpoint, it's way worse than any other decision in NBA history.