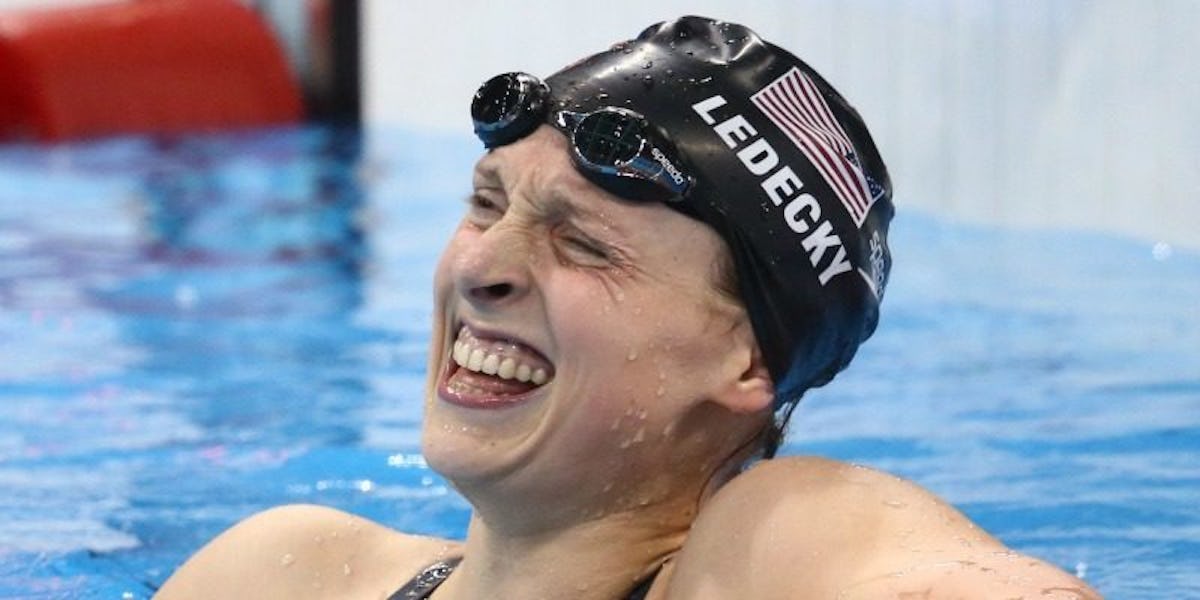 Katie Ledecky Is Passing Up $5 Million A Year To Live That Ratchet College Life
REUTERS
US swimmer Katie Ledecky returns home from Rio a hero.
The 19-year-old won five medals — four gold and one silver — at the 2016 Summer Olympics in Brazil and even gained the admiration of the most decorated Olympian of all time, Michael Phelps.
Her athletic achievements deserve plenty of praise on their own, but when you compare her grace and behavior outside of the pool with someone like, oh, Ryan Lochte, it's not hard to see how these Olympic Games catapulted Katie Ledecky to the top of the athletic podium.
You might be sitting there thinking Ledecky is about to cash in on her performance in Rio, as well as her potential to achieve more greatness over the next decade or so, but for now at least, that simply isn't the case.
Katie Ledecky is reportedly turning down an estimated $5 million a year in endorsement deals so that she can maintain her amateur status and compete for the Stanford University swim team.
Speaking on ESPN's "Mike and Mike" show Wednesday morning, Ledecky reportedly explained her decision, saying,
I've always wanted to swim collegiately and have that experience. I think it is going to be a lot of fun to be on a team with some really great friends and great swimmers and also just go to class with them.
My memory is a little hazy, but I bet those college parties will be pretty fun, too.
Look, I would chew my arm off for $5 million a year, but you can certainly understand Katie Ledecky's decision.
Every American kid dreams of the consummate college experience: living away from home, partying and drinking four nights a week and discovering more about yourself as a person than you ever thought imaginable.
Katie Ledecky is arguably the most talented swimmer in the world at the moment, and she's destined for a lot more than $5 million a year down the road. The NCAA sucks and doesn't think student-athletes should see a dime, but such is life.
Go to Stanford, Katie. Be a kid while you still can. Go become a better swimmer, and whatever you do, learn from the mistakes of someone like Ryan Lochte so that you'll never lose a cent of that hard-earned endorsement money — once you start collecting it, that is.
Citations: Katie Ledecky explains why she is passing up an estimated $5 million per year in endorsements (Business Insider)