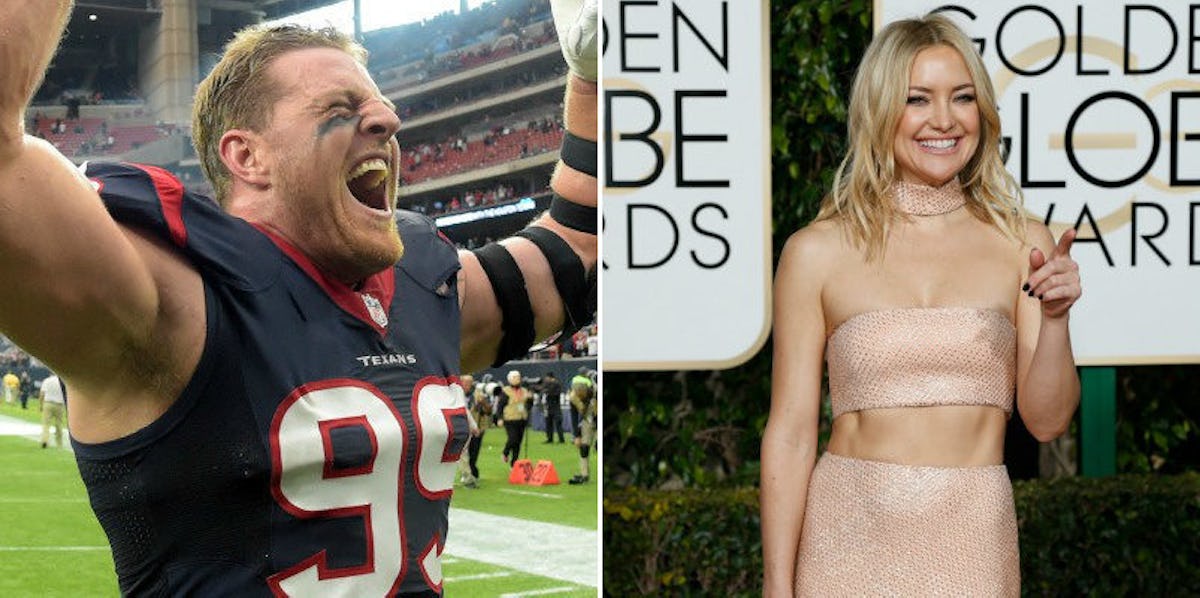 Kate Hudson On JJ Watt: 'He's Enormous, He's Huge'
USA TODAY Sports/Kirby Lee-REUTERS/Mario Anzuoni
Thanks to a recent Snapchat video, it appeared Houston Texans superstar JJ Watt and actress Kate Hudson were involved romantically.
Now, Kate Hudson reportedly opened up and addressed those rumors. Speaking on her alleged involvement with Watt, the 37-year-old actress said,
We were just at dinner with just a bunch of people. We have the same agent. He's a nice dude, he's a nice guy... he's enormous, he's huge.
Despite her compliments, Hudson claimed she and Watt are NOT dating, according to reports.
So, we're all just supposed to ignore the adorable Snapchat video and filters? We're supposed to pretend Watt didn't say, "Apparently, the stars belong to the hottest person on the date"?
I'd love to hear what JJ Watt thinks about this latest alleged development.
Citations: 'He's enormous!' Kate Hudson shoots down dating rumours but still can't help but marvel over NFL star J.J. Watt's athletic build (Daily Mail)