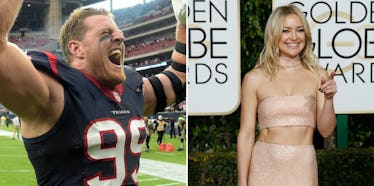 JJ Watt And Kate Hudson Might Be Dating
USA TODAY Sports/Kirby Lee-REUTERS/Mario Anzuoni
What do you know, it looks like actress Kate Hudson and Texans defensive end JJ Watt are dating.
According to reports, Hudson posted the above video of what appears to be a playfully romantic date with the one and only Watt.
There's laughing and smiling, and you can clearly hear Watt say,
Apparently, the stars belong to the hottest person on the date.
He was, of course, referring to a Snapchat filter. If that ain't proof the pair is romantically involved, I don't know what is.
I mean, how many annoying Snapchat vids and pics do you get from your couple friends? Yah, Snapchat vid plus the word "dating" definitely equals wedding bells, right?
Citations: KATE HUSON DATING J.J. WATT (TMZ)