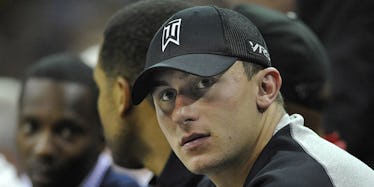 Here's Why Johnny Manziel's Father Said He Hopes The Quarterback Goes To Jail
USA Today Sports
Most kids in legal trouble trouble have parents who will try to shield them from the justice system, no matter how convincing the evidence. Johnny Manziel, on the other hand, has a father who is openly hoping to see his son in handcuffs.
Paul Manziel said of his son to ESPN,
It's not a secret that he's a druggie. I don't know what to say other than my son is a druggie and he needs help. He just hasn't [sought] it yet. Hopefully he doesn't die before he comes to his senses. That's about all you can say. I don't know what else to say. I mean, I hate to say it, but I hope he goes to jail. I mean, that would be the best place for him.
The quotes, which were given to ESPN's Josina Anderson, only underline just how strange the existence of Johnny Manziel in the NFL limelight has been.
The former Texas A&M University standout quarterback soared out of the ranks of college football and turned pro in 2014. At the time, the hype surrounding a player who had been a Heisman Trophy winner and one of the most electrifying athletes in sports was at an all-time high.
Since then however, Johnny Manziel has not delivered. His tenure with the Cleveland Browns was marked by a lack of success, and he's also faced numerous instances of trouble off the field, which included a stint in rehab and, most important now, a domestic violence case.
Johnny Manziel has simply been unable to avoid trouble. The fact his father so blatantly hopes for his son to go to jail shows just how far those closest to him fear that trouble might take him.
Citations: Johnny Manziel's lawyer sends accidental text indicating plea deal (ESPN), Johnny Manziel's father says jail 'best place' for his son (Yahoo! Sports)