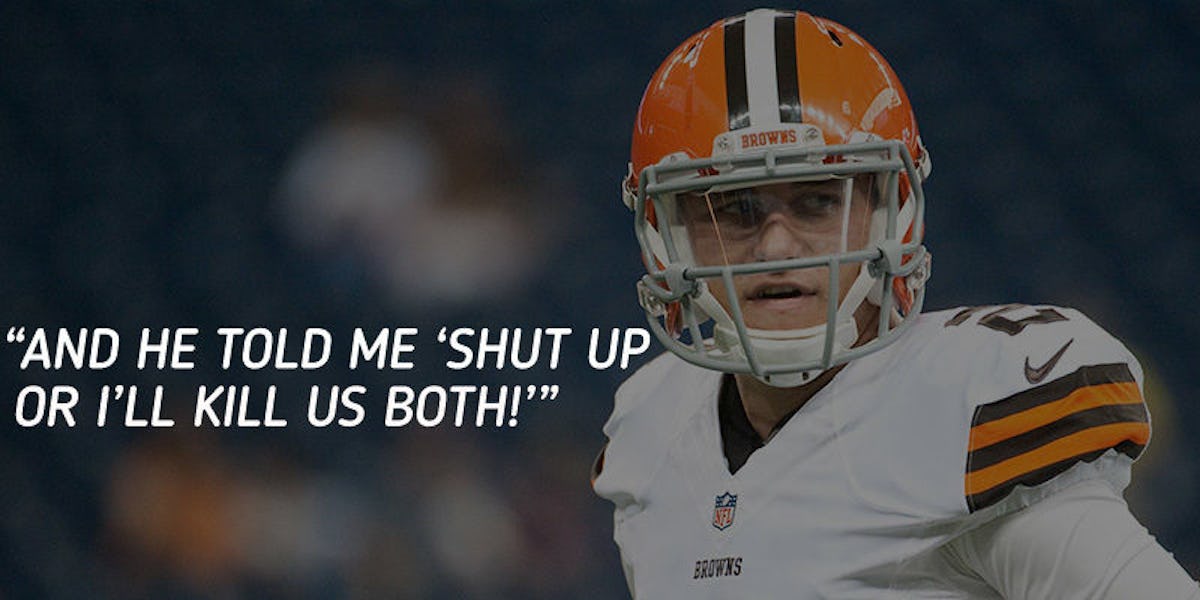 Here's Exactly What Johnny Manziel Is Accused Of Doing To His Ex-Girlfriend
Joseph Milord/Tim Fuller-USA TODAY Sports
Months after being accused of assaulting his ex-girlfriend, Johnny Manziel will formally be indicted, his defense attorney told the Associated Press.
Attorney Robert Hinton also told the Associated Press the Dallas grand jury's decision to indict Manziel will become official on Tuesday. The exact charge is a Class A misdemeanor, the maximum penalty for which is a year in jail.
For now, this news means the 2012 Heisman Trophy winner could -- in theory -- face up to 12 months behind bars, and it's pretty clear why.
Manziel's ex, Colleen Crowley, accused the football player of kidnapping, threatening and physically and verbally assaulting her.
The full scope of these allegations was detailed in an affidavit filed in early February. Here's a short breakdown of Crowley's accusations.
Kidnapping And Assault
According to the affidavit, the night of the alleged assault took place on January 29, when Crowley visited Manziel's hotel room.
When she tried to leave, he "restrained" her from doing so, the document says. Later, Manziel led her to her car and "literally" threw her into the passenger seat, before getting in the driver's seat himself, Crowley claimed.
At the point during which she describes jumping out of the car and attempting to hide behind bushes, Crowley's account gets darker.
She said,
He flipped a U-turn and pulled right in to where I was hiding. He grabbed me by my hair and threw me back into the car and got back in himself. He hit me with his open hand on my left ear for jumping out of the car. I realized immediately that I could not hear out of that ear, and I still cannot today, two days later. Fearful for my life, I hit Respondent [Manziel] several times, hoping I could back out of the car. Respondent threw me off of him and I hit my head on the car window and I fell into the passenger floorboard.
Death Threats
The affidavit further alleges as Manziel drove the pair toward Crowley's apartment, she began telling him she hates him. It's at that point in the document she details the multiple death threats Manziel made against both her and himself.
The affidavit said,
Respondent then told me he was going to drop me off, take my car and go kill himself. I thought maybe he was on drugs of having a psychotic break so to keep him calm I began telling him, 'I love you.' 'We can figure this out, we can talk.' Respondent started laughing at this and I became really scared. I started crying even more and he told me 'Shut up or I'll kill us both!' Then I started begging him not to kill me and he immediately responded, 'I would never kill you. You don't deserve that. I would only kill myself!'
Crowley said the situation finally ended when they both got to her apartment, only after she pulled out a knife. A report from NBC Dallas-Fort Worth contains the full affidavit.
Soon after, Crowley was awarded a two-year restraining order against Manziel. According to Josina Anderson, Manziel's bond will be around $2,000 for an indictment that, according to his attorney, is sure to come on Tuesday.
Citations: Manziel's Ex-Girlfriend Details Alleged Beating in Court Document (NBC Dallas-Fort Worth), Manziel's attorney says assault indictment to come Tuesday (Associated Press)