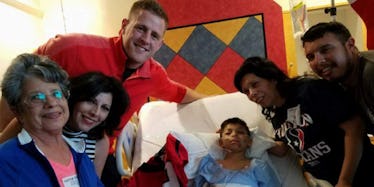 JJ Watt Surprises Young Fan Hit By Car With Hand-Delivered Jersey In Hospital
Twitter
Some NFL stars spend their time posing awkwardly on a boat while breaking every fashion rule in the book — who the hell wears Timberland boots on the deck?!
Others do worthwhile things, like visit injured fans in the hospital to raise their spirits.
Houston Texans' JJ Watt is one of those. His heart is as giant as the beef wrapped around his arms.
So when he heard about how 8-year-old Noah Fulmer was mowed down by a car on New Year's Eve in Matagorda, he made a promise to go see him in the recovery room.
Someone tweeted to JJ Watt to say his jersey had to be cut off after the accident. User Marc wrote,
Noah loves JJ and the Texans and EMTs cut off his Watt jersey to help him. He hasn't stopped crying about it.
Watt saw the tweet and replied saying he would bring Noah a new jersey the following day.
Sure enough, the man-mountain made good on his promise.
Watt, who is recovering from back surgery after playing just three games this season, surprised his fan right after surgery. If Noah wasn't so dazed and confused, I guess he'd look more happy about the visit.
A GoFundMe page has been launched for Noah as a huge medical bill looms over his family.
Spencer Gutierrez, who created the page, wrote,
He suffered various injuries, and although his medical operations have been performed successfully, his family now faces the burden of paying for the medical expenses. It is unknown at this time how much the final amount will be, but we have set a goal of $10,000. Any and all funds received will go directly to paying for Noah's medical and rehabilitation expenses. Anything you can give will help.
Hundreds of dollars have been raised for Noah so far.
Citations: Texans' J.J. Watt delivers new jerseys to boy hit by car (ESPN)