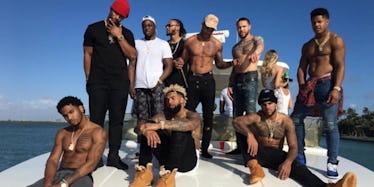 Everyone Is Roasting This Pic Of Odell Beckham On A Boat With Trey Songz
Twitter
Out of context, this photo of Odell Beckham Jr. on a boat with the Giants receiving corps is all sorts of bizarre.
Plot twist: It's even weirder with context.
The picture surfaced yesterday after the Giants beat the Redskins 19–10 at FedExField in Maryland.
It shows the team chilling on a boat in Miami like they've just won the Super Bowl. But hang on, haven't they got a playoff game against the Packers coming up in like, SIX DAYS?!
That aside, just take in how alarmingly awkward this scene is.
For a start, OBJ is representing his city in true New Yorker fashion by rocking furry Timberlands on a boat deck, and he's not the only one breaking footwear protocol.
A couple of players are wearing winter hats in 80-degree temperatures. But at least they look cool.
Trey Songz is there. Can someone please explain why Trey Songz is there? There is literally no reason why Trey Songz is there.
Not one person looks happy, despite the fact they're on a boat in Miami. Look at their faces:
The awkward photo caused a huge stir on Twitter. Mainly, there was a lot of confusion.
Some were quick to say if the Giants don't perform on Sunday, then this photo is not going away for a very long time.
Others were loving the sheer arrogance of partying just days before a really important playoff game.
One guy thought the photo was so bizarre it wasn't real (FYI, it's very real).
And obviously the Timbs got a lot of love.
But here's why the photo shouldn't come as a surprise: This Giants receiving crew works hard and plays hard. In pregame warmups before Sunday's game against Washington, they were caught goofing around.
The Instagram video shows the players dancing in slo-mo because ain't no one got more sauce than the Giants.
GO BIG BLUE WRECKING CREW.