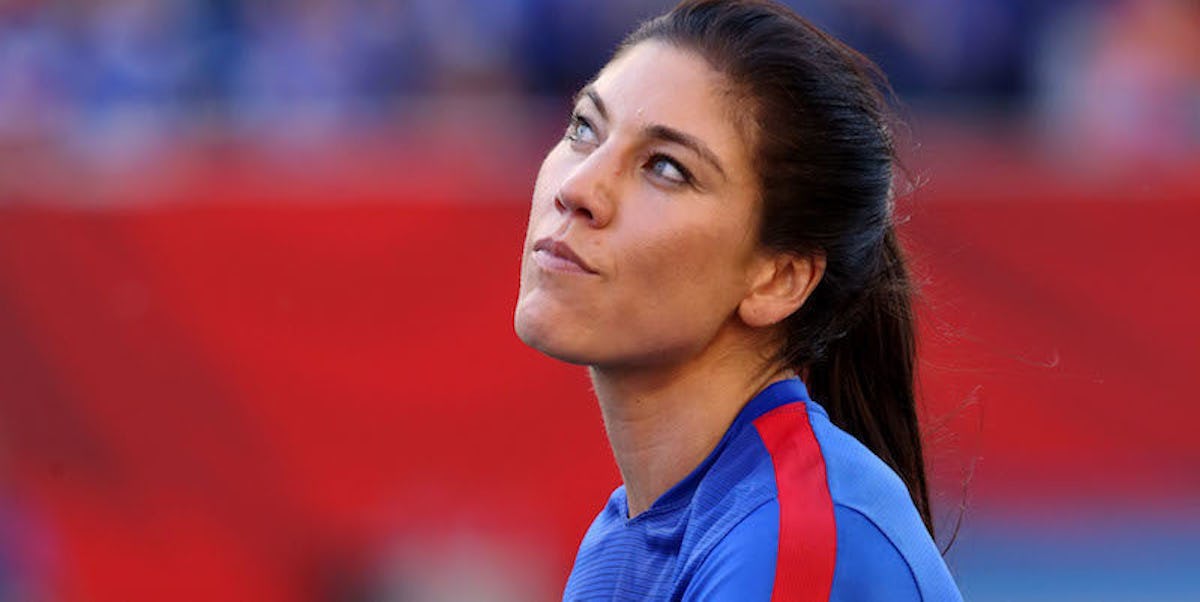 Hope Solo's Post-Olympics Drama Is So Bad Everyone Might Forget Ryan Lochte
REUTERS
The Women's USA Soccer team was beat out of a medal by Sweden at the Rio Olympics.
That was a pretty bad loss, but US goalie Hope Solo's drama is just making it a lot worse.
The 35-year-old has been suspended over her misconduct for six months, effective immediately.
Apparently, when it comes to friendly competition, saying "We lost to a bunch of cowards" in reference to the Swedish team is out of bounds.
You can't exactly unsay that, Solo!
In a statement, US Soccer president Sunil Gulati said,
Taking into consideration the past incidents involving Hope, as well as the private conversations we've had requiring her to conduct herself in a manner befitting a U.S. National Team member, U.S. Soccer determined this is the appropriate disciplinary action.
Solo definitely has a history of getting fired up.
Swedish coach Pia Sundage dropped a truth bomb in response, in pure Sundage style,
We won the game. They played more attacking football than we did. We defended very well. It's OK to be a coward if you win.
Damn straight. Sundage previously coached Team USA to two Olympic gold medals.
Being bummed after a loss is certainly warranted, but dissing the opposing team like that doesn't make up for anything. It's not like you can have a rematch at the Olympics.
But Solo knows she's not great at losing. After the quote was released, she admitted she's bad at losing in this tweet.
This is a pretty embarrassing situation for the entire USA Women's soccer team.
I'm sorry, who is Ryan Lochte again?
Citations: OLYMPICS 2016 Hope Solo Suspended for Six Months After Calling Swedish Women's Soccer Team 'Cowards' (US weekly)