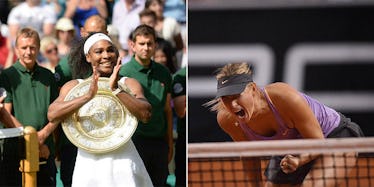 Tennis Players Are By Far The Highest-Paid Female Athletes In The World
Facebook
It's no secret that when it comes to professional sports, women are paid far less than their male counterparts.
Sure, the women's World Cup generated massive attention for women's soccer, and there's an uptick now in attendance and viewership for America's National Women's Soccer League, but that doesn't change that fact that most women who participated in Canada this summer earn less than minimum wage.
Often, these athletes are forced to get second jobs to supplement their careers, or worse, they end up having to retire in their prime; something that would be unthinkable in the men's game.
It may come as little shock then that there are only two women among the 100 highest-paid athletes in the world for 2015.
Now, you can blame this on a lack of advertising, television deals and general fan interest, but the facts are the facts, regardless.
However, there is one sport where the playing field, or court, rather, is far more level than any other.
Of the 10 highest-paid female athletes in the world -- who raked in a combined $124 million in 2015 -- seven are tennis players.
And of the top five female athletes who made the most this year, four make a living crushing fuzzy, green balls.
These are the world's highest-paid female athletes of 2015.
5. Ana Ivanovic: $8.3 million
Coming off her best fiscal year since 2008, the 27-year-old Serbian tennis player finished this season as the No. 5 women's player in the world.
Maybe next year, Ivanovic will be looking to move up a spot or two on both lists.
4. Danica Patrick: $13.9 million
Everyone's favorite IndyCar driver turned NASCAR stud is fourth on the list, despite the fact that her longtime sponsorship deal with GoDaddy will expire at the end of 2015.
The 33-year-old made $6 million from endorsements and licensing this year, while collecting another $7.9 million in race winnings and salary.
3. Caroline Wozniacki: $14.5 million
The Danish tennis star may have been dumped by Rory McIlroy less than a year ago, but she seems to be recovering just fine.
The 25-year-old pulled in $11 million away from the court this year, in addition to her $3.5 million earnings in prize money.
That six-figure Godiva deal is pretty sweet, too.
2. Serena Williams: $24.6 Million
The queen of women's tennis has won four Grand Slam titles in a row and has lost just one out of her 41 matches in 2015.
In addition to all that prize money, deals with Chase, Audemars Piguet, Gatorade and Pepsi Co. are going to keep her pockets green for the foreseeable future.
Will the 33-year-old make it five Slams in a row next month?
1. Maria Sharapova: $29.7 million
Serena may have Sharapova's number on the court, but the 28-year-old Russian has the edge on Serena when it comes to the moolah.
And it's been that way for quite a while.
This is the 11th straight year Sharapova has been crowned the highest-paid female athlete in the world; a streak she kept in tact thanks largely to her French Open victory and an impressive array of sponsors.
Sales from her candy line, "Sugarpova," also doubled in 2015.
How sweet it is.
Citations: World's Highest-Paid Female Athletes 2015 (YouTube - Forbes)